New Kindle: Wider, but still no broadsheet
Embiggened reader might just have your eye out
Amazon has announced an enlarged Kindle e-book reader, aimed squarely at students and those whose reading extends beyond the latest bonkbuster to documents and textbooks.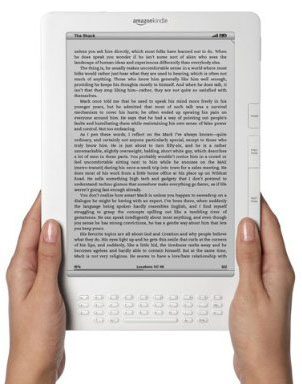 Amazon's Kindle DX has a 9.7in display
Larger than the Kindle 2, the DX comes with a screen just shy of 25cm, (compared to the 15.2cm of the existing model), but still squeezes a QWERTY keyboard onto the bottom to allow annotation without having to provide a touchscreen. The resolution is 1200 x 824 with 16 shades of grey, and is priced at $489 (£323/€367).
It comes equipped with a connection to Amazon's Whispernet service - based on Sprint's CDMA network - thus limiting it to the US market, but enabling the newspaper and magazine subscriptions which were supposed to be the revenue generator for the service.
Not that Amazon is betting the future on subscriptions - it successfully sells books for the Kindle, and last week bought Lexcycle, publishers of the Stanza e-book reading software. Amazon also owns Mobipocket, the cross-platform e-book marketplace, but hasn't been putting a whole lot of effort into developing the Mobipocket clients - a shame, as the service is well integrated and works. But the Kindle DX is really about hardware, rather than extending the software platform.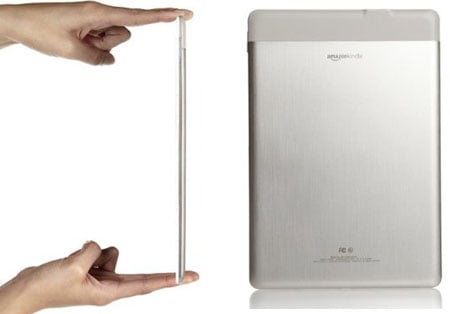 Holds up to 3,500 books, periodicals and documents
In trying to replace all books the currently generation of e-book readers suffer from being a compromise between two distinctly different forms of reading. Fiction books need to be small, to read on the tube or in bed, and to thrown into a suitcase when travelling, while textbooks are more like reference documents that use space to lay out visual data - and need larger pages.
E-book readers have been trying to appeal to both markets, and failing to address either: your author has an iRex full of Ofcom documents which the screen can't quite display adequately, and a few books which don't get read as the device is too big to be comfortable on all but the longest flight. But achieving an economy of scale has always meant producing one device of intermediate size, failing to address either application particularly well.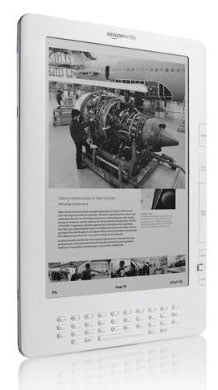 Free wireless 60 second book delivery service
iRex has had some success getting its Iliad reader into government departments - these being experts in the production of huge documents - but the size of the device limits its application there in just the same way as its inability to fit into a handbag limits its application as an electronic book.
The DX could change that, especially if followed up with a much smaller device aimed squarely at those who need a Dan Brown nearby at all times; and by pushing the device into universities Amazon might even be able to achieve the scale of production needed to get the price sensible - if they get rid of that tacked-on keyboard, we might even buy one ourselves.
Check out the Amazon Kindle DX online. ®