Top British boffin: Time to ditch the climate consensus
Don't use science to get round politics, says Hulme
---
Making politics disappear
He stresses that he has little problem with the basic scientific understanding of climate change. It's just that, if progress is to be made in debates on how to respond to that knowledge, they need to be opened up to other disciplines, from the arts and humanities, for example - and to good old-fashioned politics and ideologies.
"However much we agree on the fundamentals of the physics of climate change, there are huge ethical, political and ideological differences that remain about what climate change signifies for society", says Hulme. "And if one pretends that we can gloss over those, converging on a single political position, where there is no party political debate and differentiation, then we're losing some of the essential dimensions of climate change that we have to engage with. It narrows down debate rather than opening it up."
"Climate change cannot be artificially solved by creating consensus"
Which is why Hulme has opposed the idea of UK cross-party consensus. "Climate change can only be understood from a position of dis-census, rather than artificially solved by creating consensus," he says.
Similarly, while he is sympathetic to the ambitions of the Inter-Governmental Panel on Climate Change (IPCC), he is critical of the way it is widely cited as the last word on climate issues.
"It's won theNobel Peace Prize for goodness' sake - it can't be challenged!"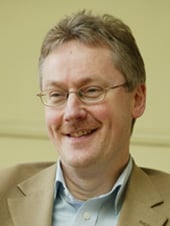 Mike Hulme
He also regards the IPCC as too selective in terms of both the geographical regions from which it draws its knowledge and in its academic scope.
"It is hugely dominated by the natural sciences, economics and engineering. The social sciences hardly get a look in, and the humanities none at all. For example, it does not include anthropological understandings of weather and climate or any historical perspectives on how societies and climates have interacted historically."
"If climate change is the biggest issue facing the future of human civilisation, to use the rhetoric, then surely a body charged to assess what humans know about climate change should actually be assessing all forms of knowledge."
Moreover, says Hulme, no one is even quite sure what sort of knowledge it is that the IPCC, as a "boundary organisation" – part science, part politics - actually produces. Nor how the world at large interprets that hybrid knowledge. Even more fundamentally, he says, it is far from clear that the IPCC has actually allowed us to do "better science":
"Or has it actually narrowed the way we frame and ask questions in climate change research?" Hulme wonders.