Review It seems like ages since the first Google Android phone appeared as the T-Mobile G1 at the back end of 2008. But now the HTC Magic has arrived on Vodafone and it's an altogether different beast: lighter, sleeker, more powerful, with more memory, a 3.2Mp camera and stereo Bluetooth.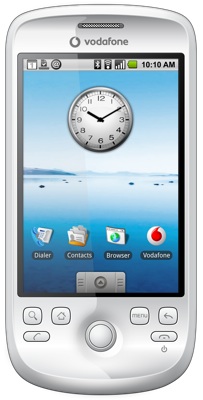 HTC's Magic: all about the touchscreen - despite the extra buttons below the screen
But though the HTC Magic is certainly better than its predecessor, with the next-gen iPhone expected in a month or so's time, is it doing enough to keep up?
The biggest and most obvious change from the G1 is the loss of the slide-out Qwerty keyboard, allowing HTC to slim Magic down to a relatively sylph-like 113 x 55 x 14mm. It weighs 119g.

The 'chin' isn't so pronounced this time
HTC and Vodafone have settled on a discreet array of hard buttons to augment the touchscreen, with call start and stop, home, menu, back and search buttons surrounding the highly tactile trackball.
It still has that protruding chin at the bottom - purely a design feature, apparently - but it's now more discreet and better looking – think Keira Knightley rather than Bruce Forsyth. The sides are almost bereft of detail besides a metallic strip, a volume rocker and a USB 2.0 slot for charging and connecting headphones.
More pocket friendly than its predecessor
The loss of the Qwerty keyboard isn't a disaster, since the on-screen version is really very good. The keys are a little on the cramped side in portrait mode, but the screen's sensitivity is precise enough that it's not difficult to find the keys. You'll still need some care, however, and speed typing probably isn't on the menu, though matters are improved by turning the HTC Magic on its side – the onboard motion sensor will automatically flip the screen to landscape mode, which offers a bigger keyboard.
Similar topics