The 3.2in, 320 x 480 touchscreen is a gem. It makes no attempt to ape the iPhone's widescreen dimensions, but still offers plenty of real estate for viewing web pages and video. Sensitivity seemed just about right too, easily distinguishing between a brush - to move the screen around - and a press - to access functions. Incidentally, it comes with a thin leather-look case to protect it, which is nice.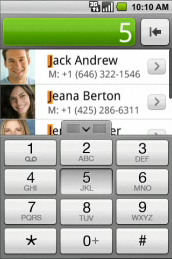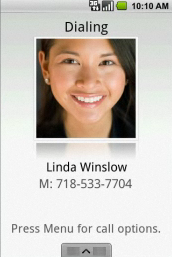 'Cupcake' Android includes some small tweaks...
The interface is the latest, Cupcake version of Google's Android OS, which has a few minor tweaks - the touchscreen keyboard is one - and you can still add app icons to the home screen by dragging and dropping them from the apps menu. The processor is the same Qualcomm 528MHz model. No problem there: it's nice and nippy, and we didn't notice it hanging around, even when we had multiple apps running.
The user-accessible memory's the same, at 192MB, but the ROM has been doubled to 512MB. It also comes with a 2GB Micro SD memory card - it'll take cards of up to 8GB capacity - but you can only store apps on the phone's own memory, not on the memory card.
The browser is really quite beautiful and seamlessly and intuitively integrated into the device. Widescreen browsing is encouraged by the accelerometer, and a zoom option appears when you tap the screen. There's also an icon for a magnifying window which you can move around a full web page until you find the bit you want to focus on. Flash support would have been nice, though.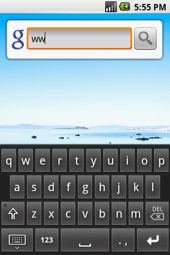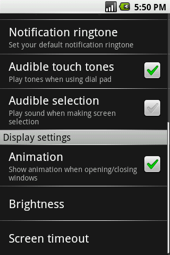 ...and the addition of a touch keyboard
Viewing streamed internet video was initially unimpressive, but there's an option to ramp up the quality which we ended up switching on permanently. There's a useful YouTube app that not only makes searching the video site easy, but also allows you to instantly upload your own vids. And speaking of web connectivity, the quad-band HTC Magic offers full HSDPA 3G 7.2Mb/s downloads - Vodafone currently offers this in seven UK cities as well as most major airports - and there's also Wi-Fi for genuine broadband access.
Similar topics