Android Market isn't as well stocked as Apple's App Store but there are hundreds or programs to choose from, many of them available for free. Like multichannel TV, there's something for everyone, even if it includes lots of use-it-once nonsense. A few of our favourites include ShopSavvy, which allows you to use the phone's camera to scan product barcodes and search for alternative prices online; Google Latitude, which allows you to keep track of the physical locations of your contacts and, of course, the mighty Homer Simpson soundboard. Mmmmm, soundboard.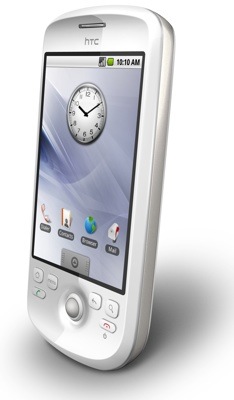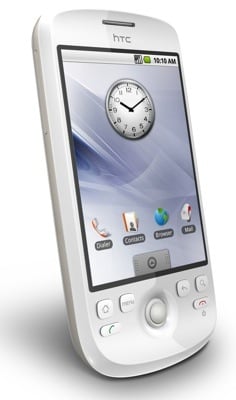 A terrific smartphone
The GPS works fine, augmented by Google Maps and a digital compass. This allows it to perform a compelling trick in Streetview, since you can get a 360° view of the location simply by turning around. Not essential, true, but it's fun to do some tourist rubbernecking around Piccadilly Circus when you're actually in Peterborough.
The music player is the same as before and it's decent enough, though we'd have liked a graphic equaliser to tweak the sound. The supplied headphones are adequate but nothing special. Unfortunately, they use the USB slot so if you want to upgrade them you'll need an adaptor - will they never learn? - or use wireless ones over the stereo Bluetooth link.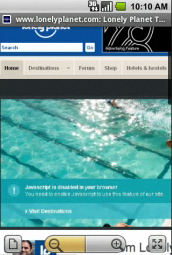 Browsing on Magic is as good as it gets
The Magic's battery won't win any awards. Admittedly, we gave it a bit of a caning on the first day, but it barely made it into the second before needing a recharge.
Verdict
The HTC Magic easily rises above the bar set by the original G1. Little is lost with the removal of the slide-out Qwerty keyboard but there's quite a lot gained in terms of pocketability and attractiveness. The operating system, GPS and browser have all been sharpened up too, but while it's a strong contender, it can't be said to comprehensively beat the iPhone yet, especially with Apple's latest 3.0 upgrade imminent. ®
More Smartphone Reviews...
| | | | |
| --- | --- | --- | --- |
| Acer DX900 | Nokia E75 | HTC Touch Diamond 2 | Nokia N85 |

HTC Vodafone Magic
A terrific little smartphone that stands up as the best anti-iPhone currently available.
Price:
From free with £35pm 24-month Vodafone contract RRP
Similar topics