This article is more than 1 year old
Renault intros e-MPV
be bop concept nears production
Leccy Tech It's no secret that the Renault-Nissan Alliance has big plans for the leccy car and that Renault's first e-car will be something based on its Kangoo van-cum-MPV. The first draft of Renault's e-car vision saw the light of day last year in the form of the ZE Concept, but things are now firming up with the unveiling of the Kangoo be bop ZE EV Demonstrator.
According to Renault, the technology under the be bop ZE's bodyshell is "very similar to that featured on the upcoming production electric vehicles", which should start to become widely available in early 2011 in what Renault describe as an "affordable" form.
As it now stands, the ZE is powered by a 15kWh lithium-ion battery made by AESC - Automotive Electric Supply Corporation, the joint Nissan-NEC battery venture established in 2007. That gives it a range of 100km (62m). Not far enough? Not a problem, as Renault goes on to say that, come 2011, improved battery technology will up that figure to a "real world" range of 160km (99m).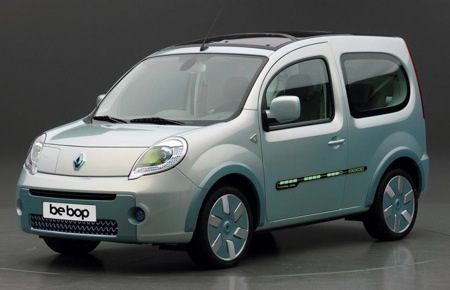 Renault's be bop ZE EV: side-facing battery charge gauge
Plug the ZE into a 10-16A 220V power supply and the car should charge up in between six and eight hours. Hook it up to a 32A 400V three-phase supply and apparently the battery pack will suck down an 80 per cent charge in around 30 minutes.
The 2011 version of the the ZE will use the new 'standard' EV plug that RWE showed off recently, and Renault reckons that when you use that with a 400V three-phase supply a full charge can be accomplished in 20 minutes.
If you want to know where Renault has stashed the 48-module battery pack, it's underneath the dashboard. The reason for this location is space efficiency rather than ready access for battery-swap stations about which Renault made no comment.
The battery is connected to a 44kW (59bhp) 190Nm (140lb ft) electric motor – down from 70kW in the ZE Concept - which revs to 12,00rpm. The only performance figure Renault quoted was a top speed electronically limited to 130kph (80mph).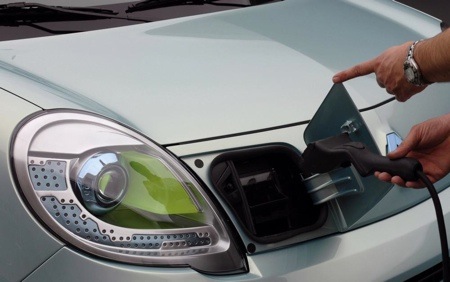 Charged through the nose
In order to maximise its range, the ZE has been aerodynamically adjusted to sit 20mm lower than the standard Kangoo be bop. It also uses low-power LEDs in the front and rear light clusters. Apparently, that display on the side of the car shows the battery charge level when you blip the central-locking remote.
If all this wasn't exciting enough Renault also said that "two new, highly innovative vehicles" are scheduled for release in 2012. ®