This article is more than 1 year old
Atlantis set for Monday lift-off
Hubble servicing mission good to go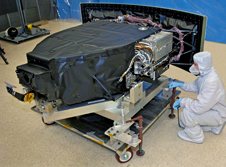 The Wide Field Camera 3 (WFC3, pictured), meanwhile, will be set to work on "a broad range of inquiry, from early and distant galaxies beyond Hubble's current reach".
The instrument's key feature is its "ability to span the electromagnetic spectrum from the near ultraviolet through the optical ... and into the near infrared". It will be the only Hubble kit with this "panchromatic" talent, NASA explains, and could provide "the greatest era in the spectacular history of Hubble imaging".
NASA elaborates: "The incoming light beam from the Hubble telescope is directed into WFC3 using a pick-off mirror, and is directed to either the Ultraviolet-Visible (UVIS) channel or the Near-Infrared (NIR) channel. The light-sensing detectors in both channels are solid-state devices.
"For the UVIS channel a large format Charge Coupled Device (CCD), similar to those found in digital cameras, is used. In the NIR detector the crystalline photosensitive surface is composed of mercury, cadmium and tellurium (HgCdTe)."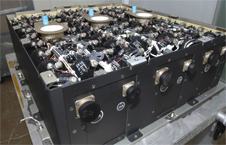 Rather more mundane items aboard Atlantis will be a new set of six gyros to ensure Hubble's "very precise pointing requirements", two battery modules (pictured) to "rejuvenate the electrical power system" and an "outer blanket layer". The latter, comprising stainless steel sheets, will be installed on the telescope's exterior to "provide additional thermal protection to some equipment bays, replacing the existing multilayer insulation which has slowly degraded over time due to the harsh environment of space".
The Atlantis crew will also carry out repairs to Hubble's Advanced Camera for Surveys and the Space Telescope Imaging Spectrograph. There are full details on all the planned activities available via the main Servicing Mission Four site. ®