Oompa-Loompa v Tinky Winky: Shock scrap pic
Exclusive snap of mindless fancy dress violence
---
The shock news earlier this week that an Oompa-Loompa, Tinky Winky and Spiderman had been cuffed after a nasty bout of fisticuffs at a Devon holiday camp prompted readers to demand an answer to that most pressing of questions: When the Tellytubbies and the Chocolate Factory employees go head-to-head, who's the last man standing?
Well, we can answer that for you, with this harrowing image of the mindless violence, captured as ever by our fearless man on the spot (click on the pic for a bigger version):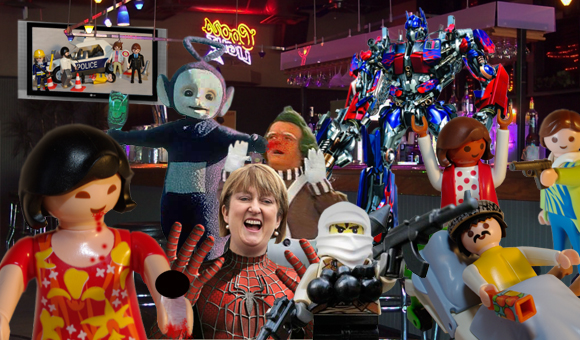 As you can see, despite some commenters' assertion that Oompa-Loompas are as hard as a sackful of Chuck Norris brand nails, Tinky Winky has just knocked the poor blighter senseless with a left hook and is about to follow up with a broken bottle.
A cackling Jacqui Smith, meanwhile, has just realised the awesome powers endowed by her terror-busting Spiderman cozzie, and accordingly intends to make short work of Michael Savage.
The US shock-jock, having been banned from the UK for excessive gobbing off, has decided to try and sneak into the country posing as someone he believes will slip under Blighty's immigration radar - an extremist Liberal pro-abortion suicide bomber armed with an AK47.
While security operative Optimus Prime looks on helpless, Victoria Principal - not in fancy dress but unrecognisable under 20 years of sensitive facial nip-and-tuck - is (allegedly) attempting to pop a cap in her Mexican maid on the grounds that the minimum-wage lackey failed to ensure her Shih Tzu mutt defecated within the prescribed timescale.
In the process, the pair are in serious danger of disturbing a Frenchman who, having worked his way through the entire buffet over four hours, has retired to bed with a bottle of calvados and has so far slept soundly through the entire rumpus.
Finally, the CCTV screen in the background has captured an unfortunate incident on the street in which a Singaporean businessman has sustained a serious injury to the groin area. While police and paramedics attend the scene, the chap's secretary is seen making good her escape through the club bearing the vital (censored, natch) evidence of how her intimate "dictation taking" went horribly, horribly wrong.
So now you know. ®
Related stories
All of El Reg's ground-breaking Playmobil coverage can be found right here