This article is more than 1 year old
Acer Aspire One 751
Netbook with an 11.6in, HD screen
Review The new Acer Aspire One 751 has a screen that measures 11.6in on the diagonal with a resolution of 1366 x 768 and that's mighty big for a netbook. As it happens, we were told a few months back that Intel has strict rules about the sale of Atom N-series processors to avoid cannibalising the sales of Core 2 and Centrino products.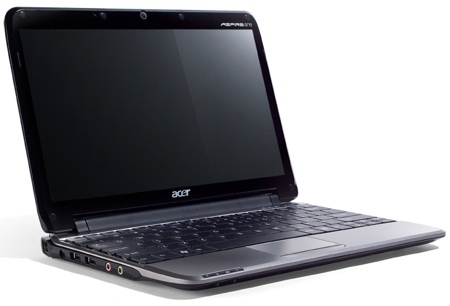 Acer Aspire One 751: a netbook with a notebook screen resolution
One of those rules, we were told, is a ban on using the N270 or N280 in products with a screen size of more than ten inches. Clearly, the Aspire One 751 blows that line into the weeds so we have to accept that the screen size isn't much use for defining whether a mobile device is a netbook or a notebook.
Happily, Acer has the answer down pat: a netbook is used to consume media from the net, it reckons, while a notebook can be used to create media. It's a slick PR-produced answer that doesn't really explain too much, so we're choosing to understand that you can use a netbook to watch movies but you'll need a proper notebook if you want to encode or recode movies.
The bottom surface of the Aspire One 751 is flat white and the lid is pearl white but once the lid is open you're presented with a black keyboard and black screen surround. The keyboard is a decent size and the keys have a good amount of travel, although it flexes when you type hard. The layout of the keyboard has been done properly with the Enter key on the outside edge, and the Shift and Ctrl keys on both the right and the left side. The only quirk that we noted is that the Page Up and Page Down keys are next to each other instead of being one above the other.
The matte black surround to the touchpad is prone to showing greasy fingerprints and the touchpad itself is small - 65mm x 33mm - so your finger may slip off it occasionally. More annoyingly, the tapered strip that forms the two mouse buttons is tiny and less than 10mm deep at its thickest point which makes it tricky to use.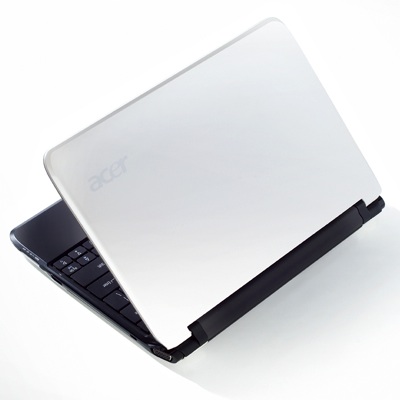 Stylish looks
Although the touchpad looks conventional it is somewhat cleverer than you might expect as it incorporates multi-touch technology that allows you to zoom in and out of a page by pinching and spreading two fingers. Hmm, now where have we seen that idea before?