This article is more than 1 year old
Asda clamps down on killer teaspoons
ID requirement causes a bit of a stir
Are you under 18 years of age? Do have have an urgent need for teaspoons? Well, avoid Asda's Halifax tentacle where the powers that be are determined to prevent this potentially-lethal item of cutlery falling into the hands of murderous yoof.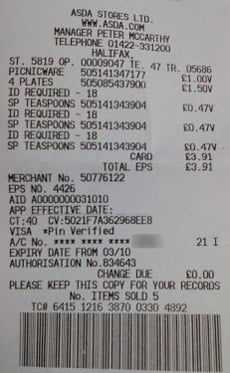 The proof of the clampdown comes from Nanny Knows Best - a site "dedicated to exposing, and resisting, the all pervasive nanny state that is corroding the way of life and the freedom of the people of Britain".
According to the background info, the lady shopper in question was told by an Asda assistant that she'd have to prove her age "because someone had murdered someone with a teaspoon, and therefore ID was now required".
Suitably outraged by this "complete and utter bollocks", another Nanny Knows Best reader's wife decided to put Tesco to the test - provocatively turning up at the check-out with two latte teaspoons (long-handled, for the record).
Sure enough, "an assistant was required & she was asked for proof of ID".
In fact, Tesco has been battling cutlery-wielding hoodies for some time. Back in 2007, we reported that the supermarket monolith had taken steps to prevent violent sink estate gangs from laying into each other with knives and forks. ®