This article is more than 1 year old
Atlantis blasts off for final Hubble repair job
One more for the road
After nearly seven years of delays, NASA's fifth and final servicing mission to the Hubble Space Telescope lifted off from Cape Canaveral, Florida at 2:01 EDT (18:01 GMT) today.
The crew aboard space shuttle Atlantis mission STS-125 are scheduled to perform a series of five spacewalks beginning Thursday, giving the aging space kit an expected additional five years of quality peeping on the universe.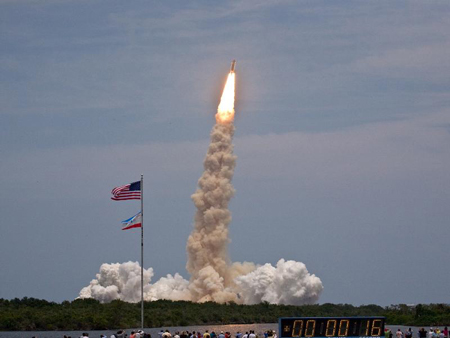 Photo credit: NASA/Fletcher Hildreth
Among the repairs, the spacewalks will see the installation of the new Cosmic Origins Spectrograph and Wide Field Camera 3 (details here) and the replacement of the telescope's busted data relay unit.
Although technically the fifth servicing flight to the telescope, the mission is being referred internally as "Servicing Mission 4" (NASA counts the last two fixes as 3A and 3B).
The fate of the telescope's final repair job was originally thrown into doubt after the tragic loss of shuttle Columbia and its crew in 2003. When undetected wing damage during launch was found to be the cause of the disaster, NASA enacted new safety protocols requiring all manned flights to be able to reach the International Space Station for a safe haven in the event of any problems.
NASA officials eventually said that a mission to Hubble could be run safely — so long as a second shuttle was placed on standby for rescue. As Atlantis blasted off Monday, a four-member crew for shuttle Endeavour stood by on alert.
The telescope's final servicing mission was also delayed by its Science Instrument Command and Data Handling Unit breaking down in September 2008, requiring NASA to cook up a replacement.
Once Atlantis returns planet-side, Endeavour will squeeze into pad 39A for mission STS-127 to the International Space Station, scheduled for a mid-June launch. ®