A US company that specializes in CPU-cooling systems has just released its latest weapon in the war against melty microprocessors: liquid nitrogen.
Auburn, Washington-based Koolance offers a broad range of CPU coolers, but none that will make a serious overclocker's heart skip a beat more than the CPU-LN2 Liquid Nitrogen Evaporator.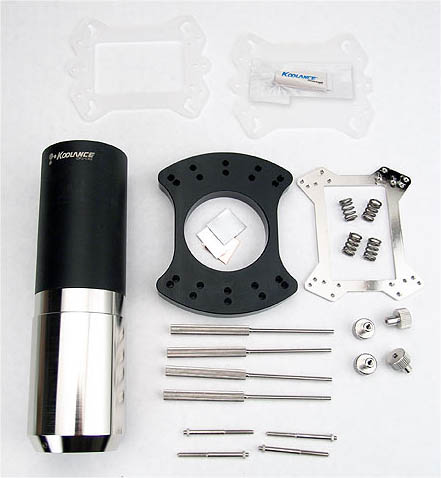 Prepare your CPU for global warming
The $144.99 system's acetal evaporator pot is coupled to a nickel-plated solid-copper cold plate that will suck heat off your CPU faster than anything short of the X-Men's Iceman. Just fill up the pot with some liquid nitrogen (around −195 °C or −320 °F), and you're good to go.
According to Koolance, the included bracket supports the following processor sockets:
AMD AM2, AM2+, AM3, and 939/940/754 processors (64, Opteron, X2, FX, Sempron)
Intel LGA 1366 (Core i7)
Intel LGA 775 (Quad, Core 2 Duo, Core Duo, Extreme, Pentium)
Intel 478 (Pentium 4, D, EE, M, Celeron)
Intel Xeon (603, 604, LGA771)
Liquid nitrogen sold separately. ®