This article is more than 1 year old
OpenOffice 3.1 ready to lick Microsoft's suite?
Huzzah for Windows, ho-hum for Linux, OS X
Review OpenOffice.org remains the most popular open source answer to Microsoft's ubiquitous Office suite, and in these recessionary times, the appeal of "free" software is stronger than ever.
Many individuals are already heeding the call of online suites from Google or Zoho, which offer most of the important features found in their desktop brethren. But business users remain rightfully suspicious of handing their software over to the clouds.
The answer for many is OpenOffice.org, which has - after several push-backs - just released version 3.1. And the good news is that OpenOffice 3.1 meets the most important criterion of any software upgrade: It's considerably snappier than its predecessor.
Ordinary tasks like opening new documents, inserting charts, filtering database records, and more were all quite a bit quicker than what we were used to under version 3.0.
That isn't to say that OpenOffice is suddenly a blazing-fast application. It isn't, and it probably never will be. But at least there are some performance improvements. Upgrading from 3.0 to 3.1 won't offer the sort of speed boost that blows you away, but if you've spent your days working in OpenOffice, you'll definitely appreciate the improvement.
As for features, the big news in OpenOffice 3.1 is the much-improved graphics handling, an area where OpenOffice has long lagged behind its rivals. Thanks to some new anti-aliasing tools in 3.1, graphics in OpenOffice no longer have jagged edges, and charts and the like now look much more refined.

Smoother: a chart in OpenOffice 3.0, left, and OpenOffice 3.1, right
The anti-alias support extends to lines, circles, and charts and works across the suite in Calc, Draw, Impress, and Writer. It was a long time coming. The groundwork for anti-aliasing started more than five years ago. But now that it has arrived, OpenOffice.org graphics finally look every bit as good as the competition.
Also new is the ability to see a live preview when dragging objects within a document. In other words, rather than a simple dotted outline of the object, you now get a translucent image of the actual shape, making it considerably easier to position objects in a complex page layout.
Another noteworthy improvement is the ability to reply to any notes that collaborators or editors have left. OpenOffice.org 3.0 introduced the ability to leave notes in the margin of documents, and 3.1 builds on that by offering collaborators a way to carry on discussions through the new reply feature.
Much like replying to an e-mail, selected text appears as a quote in your reply and tracking what's being said is actually quite easy. Given that collaborative group editing is one of the selling points for online office suites, it's nice to see that OpenOffice is moving in similar directions.
There a number of other refinements too, like translucent selections in Writer, grammar checking improvements, the ability to "overline" - like underlining, but over a word instead - and Macros in Base.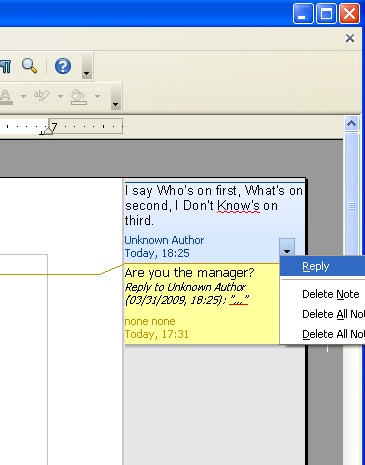 Collaborator: You can reply to notes left by colleagues
While the new features are found across platforms, the Mac OS X flavor is considerably newer than the rest and still a bit rough around the edges. Mac users finally got a native version of OpenOffice with last year's 3.0 release. And although 3.1 for Mac OS X has the anti-aliasing and other new features of its Windows and Linux peers, it isn't any closer to looking and behaving like an OS X app - something that may put off some people.
The Mac OS X variant also failed to offer much of a speed increase. And missing in the developer build I tested was any sign of the planned WebDAV features or multi-touch trackpad support for the newer Apple MacBooks.
So should you upgrade? That depends. Windows users looking forward to the performance gain, and some nice collaboration improvements will be happy with the update. For Linux users, though, it's probably not worth the effort to upgrade ahead of your distro.
You can get OpenOffice 3.1 here. ®
OpenOffice 3.1 ready to lick Microsoft's suite?