This article is more than 1 year old
Canon PowerShot D10
Waterproof, but you'll need to splash out
Review Go on, admit it, when you first clapped eyes on Canon's PowerShot D10, you thought: "That's a kiddie's camera!"
Well, the PowerShot D10's bulbous shape, large buttons and brightly coloured face plate certainly give it the air of a child's toy, but it's really designed for outdoor activities like, climbing, snorkelling, trekking and white water rafting. The PowerShot D10 marks Canon's entry into the rugged-cam market, but how tough is it?
The PowerShot D10 is no shrinking violet when it comes to looks. It's quite large, measuring 103.6 x 66.9 x 48.8mm and weighing around 240g with battery and card. Consequently, you'd be hard pushed to find a pocket to hold it. That said, Canon provides a very good system for attaching a strap to one of four anchor points located on the corners of the camera.
Canon says the PowerShot D10 is tough enough to withstand immersion in water up to 10m and has an operating temperature range of -10 to 40C and in up to 90 per cent humidity. Oh, and it can be dropped onto a hard surface from a height of 1.22 metres. As they say in Liverpool, "It's well 'ard."
A quick tour reveals, a large flash and bulging lens housing at the front. Incidentally, the faceplate can be removed and changed for another design, should a makeover appeal. On top are a large power button and an even larger shutter button. At the back are three buttons for printing, mode selection (Auto, Program AE, Scene and Movie) and playback. Below them is a 2.5in PureColor LCD II screen composed of 230,000 dots and protected by a 2mm Perspex shield.
To the right, are two zoom buttons, and below these, a multi-controller composed of five buttons. At the bottom are display and menu buttons. Note the multitude of buttons and the absence of any dials, sliders, switches or joysticks. Moving to the right of the camera body, we find a waterproof cover for a mini USB port and DC in.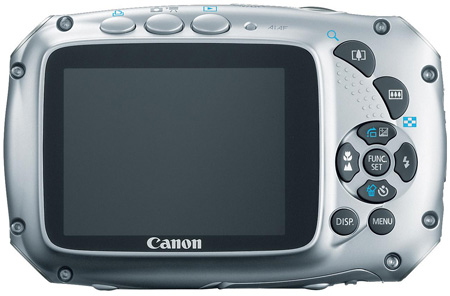 Buttoned up: no dials or sliders, menu selections are keyed in
At the bottom is another water proof cover for the battery and SD/SDHC memory card. The covers are well designed; simply pull on a plastic lug to open them and then push them back into position with a quick snap. The battery has a protective white plastic coating and it comes with a matching battery charger – a nice touch.