This article is more than 1 year old
Canon PowerShot D10
Waterproof, but you'll need to splash out
We were also disturbed by the tendency for the PowerShot D10 to overexpose shots. Yes, you can use the camera's exposure compensation system (-2 to +2 range with 1/3 stop increments) but many users engaged in activities will simply want to set the camera to a shooting mode and then snap away without having to tweak any more settings. We have certainly seen better auto exposure systems than this.
But there are good things about the PowerShot D10. Under the right conditions, you can capture some really fine detail with this camera. The Panoramic feature was easy to use and produced good results after the images had been stitched together with the bundled PhotoStitch software.
Other scene modes worked well, including aquarium. The movie mode produced reasonable sound and good picture quality, even when displayed large on a PC screen – and you can zoom whilst recording. And let's not forget that you can dunk this camera in water, drop it onto sand or use it in ice-cold conditions with no ill effects.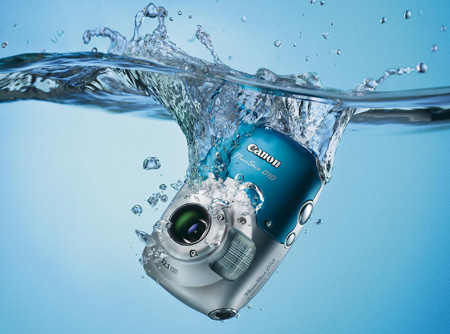 Taking the plunge: the D10 checks the effectiveness of toilet blue
Verdict
At just under £400, the PowerShot D10 is not cheap, especially when you consider that you can get a decent DSLR for the same price. That said, you can't use your DSLR underwater without any protection. As a camera for using in extreme conditions, the PowerShot D10 offers a lot, but in order to take advantage of this, users will have to settle for some compromises in terms of features and performance. As the saying goes, you pays your money and you takes your choice. ®
More Camera Reviews...

Casio Exilim EX-Z75
and EWC-10 underwater case

Oregon Scientific
Action Cam ATC3K

Olympus Mju 770SW

Pentax Optio W10

Canon PowerShot D10
An action-cam for use underwater and in other camera unfriendly environments. Yet ruggedness demands a compromise in performance.