This article is more than 1 year old
Google answers Twitter's real-time search
What's new now
Searchology Google has rolled out its answer to Twitter's much-discussed real-time search.
Beginning today, the world's largest search engine will offer a new "search options" page that gives users the power to instantly sort results according to certain, predefined criteria. Among other things, you can leap to what Google describes as the most recent results matching your particular query.
"You really need some type of slice and dice mechanism," Google golden child Marissa Mayer told reporters this morning at the company's annual Searchology shindig inside its Mountain View, California headquarters.
"So when you get your search results from Google, you need to be able to say 'I really just want the most recent' or 'I really just want reviews' - to slice and dice search results so that you can experience and visualize them in an entirely new and enriched way."
In theory, when you type a keyword into Google.com, you'll now be greeted with a "show options" link that takes you straight to Mayer's slice-and-dice page. (If you don't see it, you can kick the proverbial tires here). Halfway down the new page, you'll find a "recent results" link, which lets you browse, well, recent results.
And "recent" could mean anything. "These are actually a combination of recent and relevant," Google associate product manager Nundu Janakiram told The Reg. "What we're trying to do here is pick the best of the most timely."
As Janakiram spoke, a Tweet appeared at the top of his display. But he downplayed Twitter's influence on the new recent results play. "It's certainly important that we try to crawl as much information as possible whenever it's relevant... If we crawl Twitter and it's a great source of relevant content that's fresh, we'll use it."
Many a pundit suspects that Google will one day purchase Twitter, if only to tap its ability to instantly search the world's Web2.0rhea. But Google chief executive Eric Schmidt seemed to pour cold water on the idea earlier this year, calling Twitter a "poor man's email."
As you could in the past, via Google's Advanced Search page, the new search options page also lets you browse relevant links from the past 24 hours, the past week, or the past year. And there are all sorts of other ways to slice and dice. You can narrow your search to videos, forums, reviews, images, and more.
Google even takes a stab at so-called visual search, offering a new interface that automatically sorts results in various sub-categories and lays them out in a kind of graphical map. Think Kartoo - without the cartoon-ish icons. Google calls it the Wonder Wheel.
"It gives you spatial arrangements of things, and as you start clicking through, one of the benefits of these spatial arrangements is that we keep a trail of where you came from," Janakiram told us. "At any time, you can go back to where you were. You get this sort of path of what you've searched."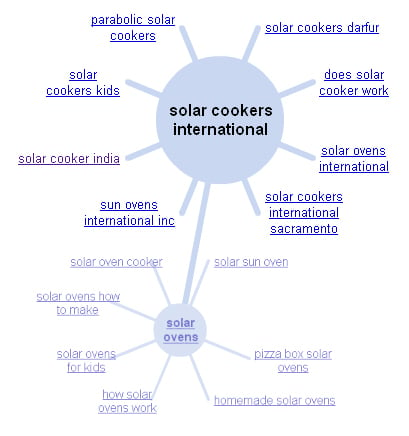 They're gonna throw it back to you: Google's Wonder Wheel
Mayer and team also announced the addition of something called "rich snippets" to Google's main search engine. Basically, Google now recognizes two microformat standards: RDFa (Resource Description Framework) and, yes, Microformat. If a web page offers up metadata coded in these formats, Google may or may not use it to slip relevant information just below a hyperlink on its results page.
At the moment, Google is targeting review sites like Yelp and Cnet and so-called people sites like LinkedIn and Facebook. A rich snippet may be a Yelp ranking or a LinkedIn job title.
In a way, Google is following in the footsteps of Yahoo!'s Search Monkey effort. But unlike Yahoo!, Google won't give webmasters the power to monkey with their own search results. Webmaster can add microformat data to their sites, and Google will pick and choose what it likes.
"First and foremost, when we were working on this, we were trying to figure out how we serve the user," product manager Kavi Goel told us. "Part of the reason that we've done it in a fairly limited and subtle way to begin with is because we've done a lot of testing. With every piece of information we show, we've done some sort of validation to make sure that that's actually helpful or people to understand more about the page and decide whether they should click.
"We're encouraging more sites to markup their information on their page in this way. Then we can apply our own algorithms and policies to decide when it's relevant to users."
Like the new search options page, rich snippets were scheduled to be available to most users sometime on Tuesday. ®