This article is more than 1 year old
Doro PhoneEasy 338gsm
Fuss-free phone with dedicated panic button
Review Doro is a Swedish company which launched its first range of back-to-basics mobile phones in 2007, aimed at the elderly and people with limited dexterity. Using a Doro phone is like taking a step back in time. A time before smart phones, mobile internet or even camphones – this is an extremely basic handset.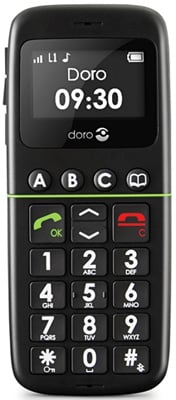 Doro's PhoneEasy 338gsm: simplicity is key
It would be easy to chuckle at the Doro's simplicity, its almost naïve presumption in relying on basic virtues of good call quality and ease of use. Even though the 338gsm is bottom of the new Doro PhoneEasy series, it isn't a quickly churned out cheapie from the dog end of a company's range. It's actually a very carefully considered, finely nuanced tri-band phone that shouts quality, even as it whispers simplicity.
It costs £100 SIM-free but it certainly doesn't feel cheap, dressed in a solid, highly tactile rubberised plastic that's sort of warm and comforting. At 16mm and 95g it's both slim and light, although there's no danger of losing it, since it casts a sizeable shadow at 125 x 52mm. The sides house the volume buttons, menu button, charger input, 2.5mm headphone socket and the power button. Around the back is a panic button – more on that later.
Much of this phone's size is due to the keypad. Compared to some of the diminutive examples from the likes of Sony Ericsson recently, it's absolutely huge. The large rectangular number buttons sit a little proud of the casing, so they're easy to find with the thumb and they offer click feedback when they're pressed – it's exceptionally easy to use and that's clearly no accident.
The call start and stop buttons are even bigger and they're on either side of a pair of arrow buttons for scrolling through menus – rather like the sort of thing you used to get on ancient Nokias.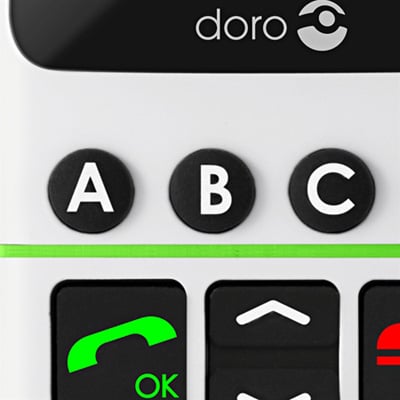 In touch: the Doro's large buttons receive RNIB approval
Above them is a dedicated button for the address book, which will hold up to 50 names, and three large speed dial buttons for key contacts, clearly labelled A, B and C. You type a number, then press and hold one of the three memory buttons to save it – did we mention it was easy to use?