Leccy Tech Zero Motorcycles is readying a 'leccy sports bike that may just be the two-wheeler we've all been waiting for: a lightweight electric road racer equivalent of its soon-to-ship 125cc model S sports bike.
Zero's model S: will be sold from soon-to-open UK stores
Neal Saiki, CTO of Zero, told magazine Hell for Leather that "later on this year, we'll come out with a micro sports bike" to be called the Zero SS.
He added that the bike will feature the Zero S's 4kWh battery pack, which presumably means the Zero SS may also have the S's same 31bhp and 62.5lb/ft torque.
"In the UK there's these 125cc motorcycles and we wanted to do the same thing in an electric version," added Saiki. "Full fairing, make it aerodynamic, make it racy looking. But we're always going to highlight the frame technology because we have all that beautiful aluminium."
The Zero S tips the scales at 102kg, with 39kg of the weight attributable to its battery pack. It's also got an electrically limited top speed of 60mph, but can hit 80mph without the limiter.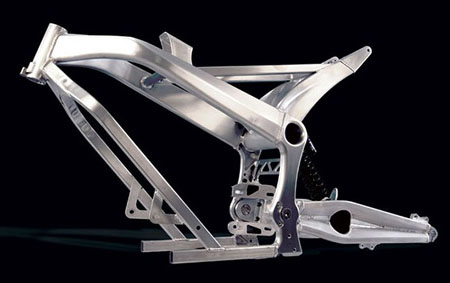 Zero's 'beautiful aluminium' frame will feature on the model S
It's reasonable to assume then that a faired, aerodynamically more slippery sports bike could hit 80mph with ease. But, as always, the trade-off between speed, acceleration and range will be a factor and Zero's claimed a fully-charged Zero S will go for around 60 miles.
According to Saiki, Zero aims to shift 600 of its model S supermotos this year. But he's confident that come 2010, the new SS will be its best seller.
The Zero S currently costs $9950 (£6560/€7308) in North America and, according to Zero UK, dealerships will be opened in London, Loughborough and Edinburgh in the not-too-distant future.
Although we don't have a price for the SS yet, Zero's pegged the Zero S's UK RRP at £8874 and at roughly €10,000 in the rest of Europe – or, to put it another way, around three times the cost of Honda's CBR125R. ®