This article is more than 1 year old
Raygun 747 to fight 'one-off' tag with twin '09 missile fryings
Energy cannon reload fills two cargo planes
Embattled raygun executives, in charge of America's jumbo jet mounted nuclear-missile-nobbling laser cannon, are fighting back against cuts which have largely sidelined the project.
It has been announced that not only will the energy-weapon 747 shoot down a test missile imminently, but a second test will follow the first as quickly as possible so as to avoid the label "one-shot wonder".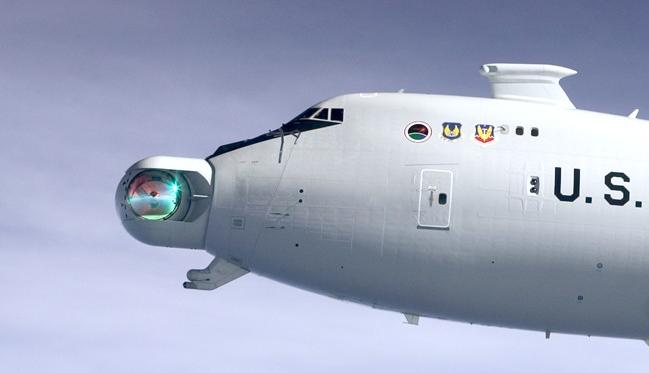 No sky too fry.
Other interesting revelations have been made by programme execs to reporters recently, following the decision by US Defense Secretary Robert Gates to downgrade the Airborne Laser (ABL) from an operational fleet of planes to a single R&D prototype.
Boeing big cheese Michael Rinn told news organisations including Flight International that both the initial and follow-on tests will be conducted against short-range ballistic missile (SRBM) targets.
"We have chosen one of the most difficult targets," said Rinn. "We have chosen something with a quick burn, very short timelines and atmosphere that we have to correct [the beam] to shoot through."
SRBMs are far more commonly found than full-on intercontinental ballistic missiles (ICBMs), the kind of weapon which could strike the USA from as far off as North Korea. It could be that Boeing are seeking to cast the raygun jumbo as a weapon which is relevant to situations which exist now around the globe, rather than a possibly unlikely or far-off future where North Korea and/or Iran have working nuclear-tipped ICBMs able to menace the States. This view seems to fit with other comments made by Boeing to Aviation Week, suggesting that the ABL would soon be tested against other real-world targets such as surface-to-air missiles and aircraft.
Alternatively, one might note that an SRBM target is much cheaper than an ICBM one and speculate that the decision has been forced by programme funding issues.
Meanwhile, an interesting insight into the reality of ABL operations is offered by the Av Week writeup. One of the known downsides of the raygun jumbo is its use of a chemical oxygen-iodine laser (COIL), requiring large amounts of hazardous, corrosive fuel. Critics have long suggested that the provision of these fuels would be a major logistic problem in the event of the US ever deploying a substantial ABL fleet able to mount standing patrols off an enemy coast or border.
Apparently one of the ongoing project efforts will be the development of "lightweight" air-transportable carts allowing the US forces to ship an ABL chemical reload to a forward operating base overseas. It seems that such a cart-packaged reload - offering an unknown amount of beaming from an ABL - will completely fill a pair of monster C-17 Globemaster transport planes, each one able to lift 76 tonnes of cargo.
The inaugural SRBM missile-meltings are set to take place between "August and October" this year, according to Boeing. ®