This article is more than 1 year old
Atlantis creeps up on Hubble
Engineers examine images of 'minor' shuttle damage
Space shuttle Atlantis is poised to rendevous with the Hubble Space Telescope on its final servicing mission to the venerable eye in the sky.
Shortly before 15:00 GMT, NASA reported: "Orbiting nearly 50,000 feet (9 1/2 statute miles) behind the telescope, Atlantis' crew performed a precisely-targeted thruster firing called the Terminal Initiation, or TI burn, setting the stage for the final phase of the rendezvous with the Hubble Space Telescope.
"Atlantis will close the final miles to the telescope during the next orbit of Earth. During that time the shuttle's rendezvous radar system will begin tracking Hubble by measuring the distance and rate of closure. Capture of Hubble will occur in a little over two hours."
NASA specifies that the "actual grapple of the telescope using the shuttle's robotic arm is scheduled for 12:54 p.m. EDT" (16:54 GMT).
Back on Earth, engineers "continue to examine the images captured during Tuesday's inspection of Atlantis' thermal protection system and exterior surfaces". This revealed "one area of damage on the forward part of the spacecraft where the wing blends into the fuselage".
According to NASA this is "very minor and of no concern for the mission, and the flight team notified the crew late Tuesday that no focused inspection of that particular area is necessary".
Atlantis's mission STS-125 will see five space walks, during which the crew will "refurbish, restore and renew the Hubble Space Telescope".
There's a mission summary here (pdf) and overview here. ®
Bootnote
NASA has released a nice snap of Atlantis's lift-off showing Endeavour on the adjacent launch pad 39B, ready to go should it be required in an emergency: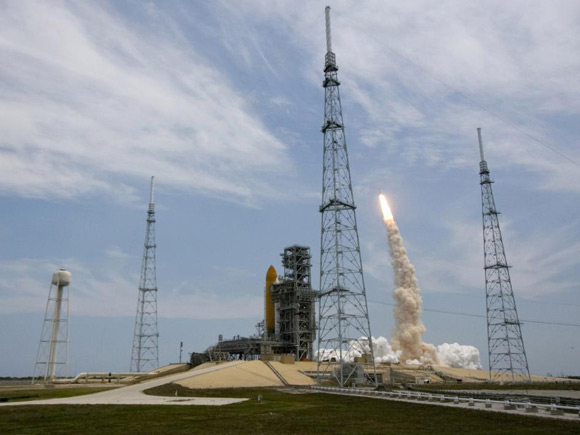 There's a bigger version here.