Meet the fresh young face of Government 2.0. It's Andrew Stott, and he's our new "Twittercrat"* - or the new Director of Digital Engagement, to give him his official title.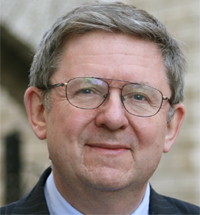 Young professional and peer group leader: Stott
The £160,000-a-year post has been condemned by opposition MPs as "a grotesque amount of public money to waste on a pointless job" and the Taxpayers Alliance, which said "the Government should not be spending money on a Twittercrat during a recession."
The job description posted back in February was quite specific about the job:
"This is not a role for a generalist. The professional skills required are formidable. Engagement in the digital space is a young 'profession' and the job requires someone who would be acknowledged by their peer group to be a leader in this field." [Our emphasis].
There's no doubt Stott will be bringing a fresh, outsider er, insider perspective to the world of bureaucracy: he was previously Director, Service Transformation and Deputy CIO at the Cabinet Office; Modernisation Director at the Driver, Vehicle and Operator Group (DVOG) in the Department for Transport, and has also spent time at the Prison Service, Pensions Service and the Post Office.
He also chaired the CTO Council Meetings at the Cabinet Office - you can peruse the minutes here.
You can't say that isn't a varied background.
In addition to investigating "jams" and "mashups", some new administrative functions have been placed on the Twittercrat's shoulders. He'll chair what's called the Knowledge Council, and implement the recommendations of the "Power of Information Taskforce" - which recommends better government through wiki-fiddling. Oh, and he'll look after the Civil Service web site.
Taxpayer Alliance researcher Matthew Sinclair questioned the role of civil servants jumping on the Web 2.0 bandwagon:
"We've seen new media used effectively by political groups and campaigns, like Barack Obama's in the States, but the Civil Service trying to get in on this fad just suggests they have no idea of their proper function. While people do need information in order to access services this isn't going to come through impermanent systems like Twitter. This is either a faddish waste of time or is actually going to be the use of taxpayers' money for political purposes."
Web 2.0 has created a golden age for bureaucrats not seen since the COBOL era. It's the new SSADM - but with angle brackets. ®
* Bootnote Cited in the Daily Stenograph - earning its name by pinching paragraphs from El Reg, ten days earlier, without credit.
Similar topics