This article is more than 1 year old
Acer Timeline 4810T
A Core 2 Duo laptop with an eight-hour battery life? You bet
We've mentioned that the weight is 2kg, but with most laptops you would have to add something for the power adaptor, 450g in this case. As the Timeline 4810T has the ability to run on battery all day, you don't necessarily have to take the power brick on your travels so the 2kg figure is quite representative of the load you need to carry.
Battery Life Results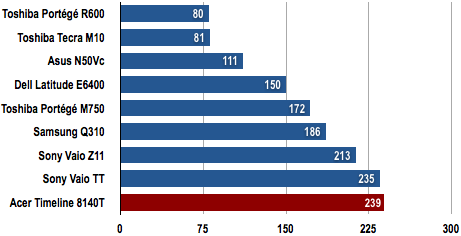 Battery life in Minutes
Longer bars are better
Mind you, the 5600mAh battery took a lengthy three hours and ten minutes to charge fully.
The exterior of the Timeline 4810T doesn't give any clue how Acer has managed to stretch the battery life so far. The chassis is sleek, with dimensions that measure 336 x 241 x 27mm, and the battery doesn't even stick out the back the way so many extended power packs do.
The clever stuff is inside the chassis and centres on the latest Intel components. The chipset is Intel's GS45 with a ICH9-M southbridge, and the processor in our sample is the 1.4GHz Core 2 Duo. It sits on an 800MHz frontside bus and contains 3MB of L2 cache. The alternative processor is, as we said, a Core Solo U3500 but thanks to the wonders of Windows Vista Home Premium we can show you that Acer had also tried a 1.2GHz Core 2 Solo U3300 in the laptop at some point.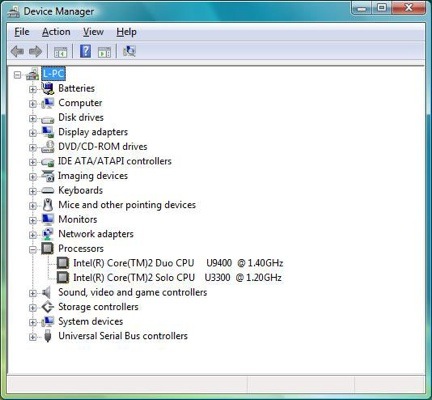 For some reason, Vista remembers the processors that have previously been installed so it appears that there are two processors installed simultaneously in the 4810T. In fact, the U3300 is a phantom device and the U9400 is for real.
The rest of the hardware consists of Intel GMA 4500MHD graphics, Intel's 5100 802.11n wireless card and 3GB of 1066MHz DDR 3 memory in two slots, although our test sample had 4GB installed.