This article is more than 1 year old
Street View forced to reshoot Japan
Lowers its sights following complaint tsunami
Google's Street View has agreed to reshoot all the images captured by its Japan-based spymobiles following mass complaints decrying the altitude of its vehicle's cameras.
According to the Mainichi Daily News, the search monolith deployed spycams mounted at 2.45 metres, "just over the height of garden walls and so on". A Google spokesman conceded: "Japan's housing environment contains many narrow streets and low walls, and we didn't take that into consideration."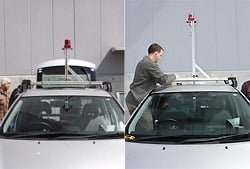 Accordingly, the cameras will be lowered to a privacy-respecting 2.05 metres (see pic) and the 12 cities already exposed, including Osaka and Tokyo, reprowled. Images currently on the Nipponese Street View will gradually be replaced, Google said.
In Greece, meanwhile, the Street View fleet is reportedly immobilised following a Data Protection Authority ban on further snooping. Google has been asked to provide "additional information" on just how long the snaps would stay on Google's database and other privacy concerns.
Google, though, issued a statement earlier this week which stated: "We have already spoken with the Hellenic Data Protection Authority to ensure that they understand the importance we place on protecting user privacy.
"Street View has not been banned in Greece. We have received a request for further information and we are happy to continue discussing these issues with them. We will discuss with them whether it is appropriate for us to continue driving in the meantime."
The statement went on to stress the "enormous benefits" of a Hellenic Street View, including would-be visitors availing themselves of "a virtual tour of some of its many tourist attractions". ®