This article is more than 1 year old
Hubble packing shiny new camera
Servicing mission proceeds apace
The Hubble Space Telescope now boasts a shiny new Wide Field Camera 3 following a seven-hour, 20-minute spacewalk by STS-125 mission specialists John Grunsfeld (in pic, below) and Drew Feustel.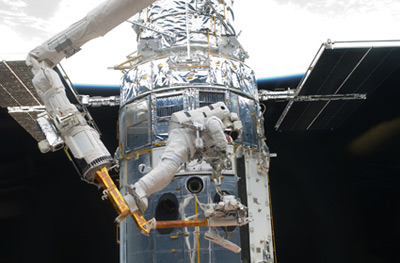 During the excursion, which ended at 20:12 GMT, the pair also replaced the bothersome Science Instrument Command and Data Handling Unit (SIC&DH), "installed a soft capture mechanism, which will allow future vehicles to attach to the telescope" and finally fitted "a combination of locks and latches that will allow for faster opening and closing of the telescope doors during the third spacewalk".
The replaced Wide Field Planetary Camera 2 is now destined for the Smithsonian's Air and Space Museum, NASA says, although the fate of the defunct SIC&DH is not noted.
The second servicing spacewalk, featuring Mike Good and Mike Massimino, is scheduled for 12:16 GMT today. The mission specialists are tasked with replacing three "rate sensor units" which form part of the rate gyro assembly and which "sense vehicle motion and provide rate data for the telescope". They'll also start work replacing Hubble's batteries. ®