Canon EOS 500D
DSLR with HD video trimmings, but has Canon sliced off too much?
Review Digital SLRs are generally aimed at three distinct groups: beginners, advanced users and pros. Occasionally, a model emerges that doesn't fit so neatly into any of these categories. Take the Canon EOS 500D – a high-end, entry level DSLR perhaps? Then again, it could also be a low-end, mid-range camera. So is the EOS 500D simply versatile or a camera that falls between two stools?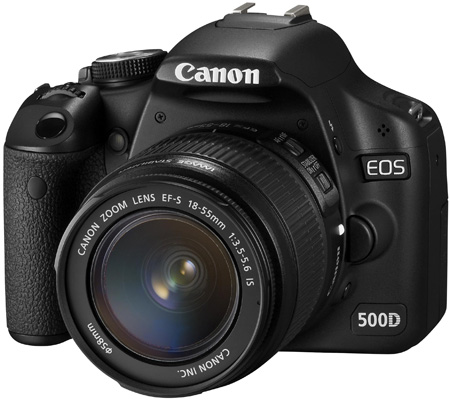 Canon's EOS 500D also known as the Rebel T1i in the US
In terms of positioning, the EOS 500D sits somewhere between the EOS 450D and the EOS 40D, and includes technologies found on the more expensive EOS 50D and EOS 5D Mark II models. If you've used the EOS 450D, the EOS 500D will look and feel very familiar.
Both cameras are the same size and the EOS 500D is just 5g heavier. Still, there are some significant differences. Whereas the EOS 450D has a 22.2 x 14.8mm CMOS sensor with 12.1Mp (effective), the EOS 500D uses a 22.3 x 14.9mm CMOS chip with 15.1Mp. The latter is similar to the sensor found on the EOS 50D, but not identical.
Likewise, the EOS 450D and the EOS 500D both offer 3in LCD screens with Live View, but while the former has an LCD screen composed of 230,000 dots, the EOS 500D's screen has 920,000 dots – the same as the EOS 5D Mark II. If you're wondering why Canon has put such a high-spec LCD screen on the EOS 500D, the answer is simple: high definition video. The EOS 500D can record HD video in two formats – 1080p and 720p – although, as we'll see, its performance doesn't match the EOS 5D Mark II's.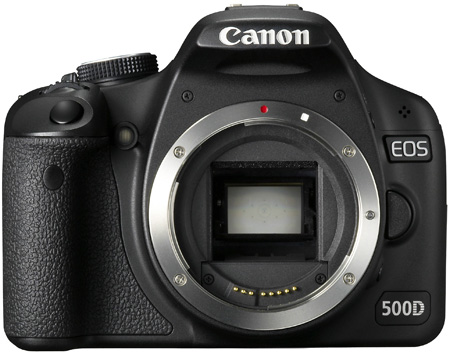 Optical delusion: US buyers get the lens included for less than the body-only price in the UK
You can purchase the EOS 500D as a body-only (£870) or in kit form with an EF-S 18-55mm f/3.5-5.6 IS lens (£970 – our review model) or an EF-S 18-200mm f/3.5-5.6 IS lens (£1400). What is amazing is that, according to Canon's official USA website, American consumers can purchase the EOS 500D - where's it's known as the Rebel T1i - with an EF-S 18-55mm IS lens for around £600. Sure, there are differences with tax rates, exchange rates and tariffs, but the wallet of the poor old British consumer seems to be getting a good clobbering here.