This article is more than 1 year old
Samsung Tocco Ultra Edition S8300
Touchscreen, keypad and a killer camera, but where's the WiFi?
Review While last summer's Tocco proved a hit for Samsung, its follow up isn't simply a feature-refreshed, identikit Mark II model. For this season's flagship Tocco Ultra Edition, Samsung has reconfigured the original minimalist design with a significant extra – a sliderphone keypad – adding a different dimension to the look, feel and playability of Samsung's pocketable Tocco.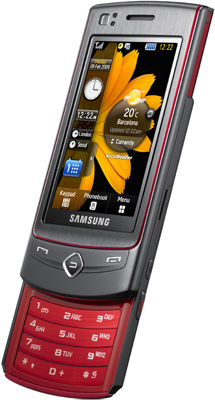 Samsung's Tocco Ultra Edition S8300 opts for 7.2Mb/s HSDPA instead of WiFi
Other makeovers include an 8Mp camera and A-GPS technology provides satellite-based location finding, too. While it packs 7.2Mb/s HSDPA 3G high-speed mobile data connectivity, Samsung hasn't added Wi-Fi to this upgrade. A real shame considering this useful feature is increasingly on the roster of higher-end mobiles.
The Tocco Ultra Edition also runs on Samsung's latest TouchWiz v1.5 touchscreen user interface which, as well as finger swiping controls, supports a larger variety of home screen widgets – including a selection of online mini-apps, just like the Samsung Pixon. The display has been improved, yet it's still a compact 2.8-inch array. The WQVGA 240 x 400 pixels resolution, 16m colour AMOLED screen looks impressively bright and vivid, and gives a reasonably clear account of itself under strong sunlight.
Unlike side-loaded handsets packing a Qwerty keyboard, such as the LG Prada Phone 2, the slide-down keyboard on the Tocco Ultra doesn't add much bulk measuring just 110 x 51.5 x 12.7mm and weighing in at 119g.
The slide-out keypad is there primarily to make it easier for conventional phone fans to dial numbers and, more importantly, compose messages – something many touchscreen phones, including the Tocco, have had issues with. The flush, smooth keypad is suitably responsive and pleasing to use as an alternative to an onscreen touchpad. There is no Clear key however, or navigation/select buttons, so you still have to utilise a bit of touch action when texting.

Trim phone: sleek even with the sliding keypad addition
From the front it appears at first glance that Samsung has done a belts-and-braces control job by adding a diamond-shaped regular navigation D-pad under the screen, between the Call and End buttons. However, this is in fact simply a Back button when navigating the menus; it doesn't do any up/down or sideways positioning. Indeed, touch selection is still the main act on this model.