At first, this Back button can be a tad disorientating, particularly when using the keypad. Instinctively you can find yourself pressing it to select an onscreen option, or to scroll as you would with a navi-pad, only to end up going back a step or exiting a feature. It's frustrating to start with, but the habit soon wears off. After all, you don't buy a touchscreen phone for the buttons, and the Tocco Ultra's compact display does a good job of accommodating finger action. Thankfully, it doesn't feel particularly cramped when fingering through menus.

The diamond button isn't a navi-pad and takes some getting used to
The home screen has three icon-labelled buttons at the bottom for the essentials – Keypad (for dialling), Phonebook and Menu. Alternatively, you can swipe left or right to bring up onscreen the main menu or a set of pre-selected favourite contacts.
The Tocco Ultra Edition's Widgets function, upgraded from the original Tocco's, is a neat way to access certain applications and features quickly and easily from the home display. With a tap on the screen, a hidden toolbar pops out to the left. This contains a scrollable bunch of icons representing individual widgets, covering a wide range of functions, from calendar and memo apps to music player, FM radio and a selection of web-based apps.
A tap of a widget in the toolbar moves it onto the main part of the display. Select as many as you want to show, drag them around the screen, organising them as desired. Close the tabbed toolbar with another tap, and they remain in place until such time as you want to drag them back into the toolbar.
Delving into the main menu, you're presented with a grid of 12 icons for various features. Samsung has spruced up the graphics, and it looks pretty attractive – although it's not quite as whizzy or busy as some the LG Arena's 3D S-Class UI tricks. Tap an icon to open up a sub menu and you're presented with list of options you can scroll through and select with finger swiping and jabbing action. Alternatively, in typical Samsung fashion, options are numbered so you can simply press the numeric key, if the slider's open.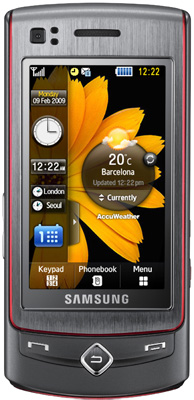 Favourite widgets are easily arranged to customise the interface
Naturally, softkey options on the bottom of the screen and other touch options change dynamically as you navigate functions or select options. Mostly it's a fairly intuitive system to operate, it's responsive and it quickly feels comfortable to use.
Stroking through menus isn't as effortless as Apple's iPhone, and you can't spin through long lists with a single swipe, or pinch to zoom. Still, Samsung has improved scrolling through lists such as the Phonebook. As well as swiping down through a list, or searching by tapping a name, holding down a small arrowed bar will whizz through the alphabet to help locate to the name you're after. Alternatively, simply tap a slider keypad button for the right letter.