As well as snapping high-grade stills, the Tocco Ultra Edition puts in a commendable video shooting performance. It can capture WVGA or VGA images at up to 30 frames per second, producing some decent quality footage for a cameraphone. That's not all – it also has slow motion and fast motion recording options (in QVGA resolution). There's in-phone movie editing too, where you can edit and save low res clips with audio tracks dubbed over.

Slideshow: protecting the lens when closed, the camera only works with the keypad out
Video calling is also supported on this handset – there's a secondary camera on the front for face-to-face calling, should you wish to use it. As well as self-shot video, you can of course sideload or download video content to the handset. DivX and XviD video is supported, and video can also be delivered over the air, though with no Wi-Fi keep an eye on data costs when downloading or streaming via 3G.
Although the 80MB of internal storage won't get you too far, the Tocco Ultra Edition does come with a 1GB MicroSD card in-box. MicroSDs up to 16GB are supported if you really want to crank up the music or video capacity. Supporting MP3, AAC, AAC+ and WMA formats, the music player software has a familiar feel to it, relying on list-based options for selecting.
The touchscreen player controls are a doddle to use, with cover art supported when available, and you can drag forward and back along a timeline as tracks are playing. Tunes can be copied over from a PC using Samsung's new PC Studio software, or synced with Windows Media Player. Drag and drop and Bluetooth transfer are also supported.
The audio performance is very acceptable, too. The supplied in-ear headset is a cut above the usual earphones bundled with a mobile. However, there's no 3.5mm standard headphone adapter on the body of the phone. Instead, a microUSB connector on the side rather than on top, takes care of the charger, USB and earphone connections. Consequently, you can't charge up while listening to tracks or video through headphones).
Thankfully, there is a 3.5mm adapter mid-way on the 2-piece headset, so you can upgrade to your own ear-gear if you want higher quality audio experience. With our reference headphones attached, the music player was able to deliver a strong sonic performance, producing a more lively sound with plenty of depth.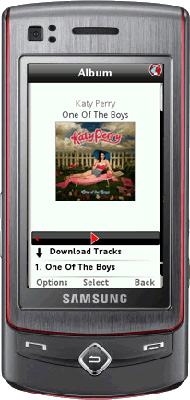 Supports over-the-air video streaming, with a second camera for conferencing
The FM radio features the usual RDS and auto-tuning regulars, plus a more unusual Record option, enabling you to capture songs from the radio. Samsung has also embedded Find Music software for tune identification, which works by sampling clips from the radio or any sounds you hear around you, and automatically interrogating a remote database, returning track info and cover art in seconds.