This article is more than 1 year old
Samsung etches tiny mechanical shutter for cameraphones
Will end blurred snaps, video, firm claims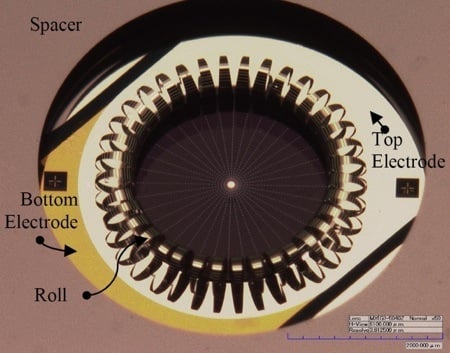 Here's a pic of Samsung's clever micro electro-mechanical (MEMS) shutter, designed to make high-megapixel cameraphones take rather better photos than they currently can.
The tiny shutter - it's just 2.2mm across - is made up of 36 triangular strips that curl back away from the pin-hole iris. They're attached to a circular electrode - apply a voltage and the strips all uncurl. Their edges meet up precisely, forming a cover over the iris that blocks out the light.
The movable parts are essentially bi-metallic strips made of materials that expand at different rates when a given voltage is applied to both.
The upshot is a shutter small enough to go in a cameraphone. Today, mechanical shutters are too large for handsets, which make do without one by sampling the sensor at the moment the button's pressed.
The trouble with this approach is that, with high megapixel counts, the shot data can't be read quickly enough, so the picture is simply an 'average' of the changing scene seen through the lens. That's why cameraphone video tends to be blurred - one frame flows into another.
With a shutter, you can be sure that the image grabbed is only derived from the light hitting the sensor at the instant shutter was open. Closing the shutter allows the picture to be read from the sensor, processed and stored without being affected by the light that would be otherwise still be hitting the sensor.
The upshot, said Samsung: shots of camera quality and video that's more smooth and more sharp than before. Users will also gain control over exposure.
We'll have to wait for it, though. Samsung showed off the micro gadget at a recent conference in Japan but, according to a report by local newssite Tech-on, the South Korean giant admitted that commercialisation of the technology is a long way off. ®