This article is more than 1 year old
Atlantis crews begins second Hubble spacewalk
Fresh set of gyros and battery swap
Two NASA astronauts ventured out of space shuttle Atlantis today for the mission's second of five spacewalks to repair and upgrade the Hubble Telescope.
"Trained my whole life for this," said Michael Massimino as he squeezed his six foot frame inside the cramped quarters of the aged space observatory.
Massimino and fellow crew member Michael Good's top priority today is replacing Hubble's gyroscopes which are needed to point the telescope. The two Mikes will also replace one of Hubble's batteries.
Mission STS-125 is Massimino's second trip up to Hubble for repairs. In 2002, he flew up on STS-109, the fourth servicing of the telescope and the last successful mission of space shuttle Columbia before the 2003 Columbia disaster. Today's spacewalk is Good's first.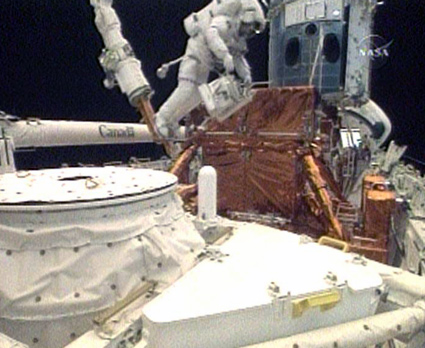 Mike Good rides the shuttle's robotic arm for the second spacewalk. Image courtesy NASA TV
"Welcome to the wonderful world of working in a vacuum," Massimino told Good as they exited Atlantis' cabin, orbiting some 350 miles above Earth.
The gyroscopes the astronauts will remove and replace today are packaged in pairs inside boxes called Rate Sensor Units (RSUs). Massimino and Good will replace all three RSUs on the telescope during the mission.
Massimino is disconnecting the units' electrical connectors while Good removes the three bolts holding the RSUs in.
NASA had previously installed a fresh set of gyros on Hubble during the STS-103 repair mission in 1999, after three of the six on-board gyroscopes failed. A few weeks before the mission, a fourth gyro broke down, leaving the telescope temporarily unable to perform observations. Hubble previously used three gyros at a time to conduct its science with the others functioning as spares. But after Hubble's pointing control software received some upgrades, only two gyros are currently needed, according to NASA.
After the gyros are fitted, the pair will replace one of the telescope's two Battery Module Units. Each unit houses three 125-pound nickel-hyrdogen batteries, which provide power during the night portion's of Hubble's orbit. The telescope's orbit takes about 96 minutes, with 60 minutes spent in sunlight and 36 in Earth's shadow. During daylight, Hubble's solar panels give the batteries a recharge.
The battery module have lasted 19 years, NASA boasts. That's 13 years longer than its designed orbital life and longer than any other spacecraft battery in low Earth orbit.
The second battery module will be installed during the fifth and final spacewalk. Today's spacewalk is expected to last about 6 1/2 hours. ®