This article is more than 1 year old
'Bolt removal issue' hits Hubble spacewalk
Stubborn handrail? Break it off
Astronaut Mike Massimino yesterday used some good, old-fashioned brute force to resolve a "bolt removal issue" during the fourth STS-125 mission spacewalk on the Hubble Space Telescope.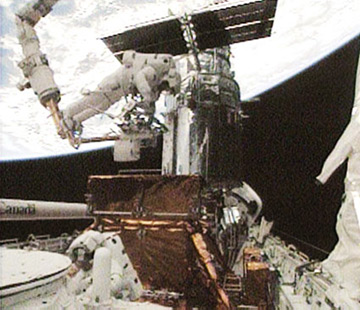 Massimo and Mike Good (see pic) were tasked with replacing a low-voltage power supply board on the orbiting 'scope's Space Telescope Imaging Spectrograph (STIS). To do this, they had to remove a panel sitting behind a handrail which refused to budge due to a stripped bolt.
NASA explains: "Massimino followed steps developed quickly at the Goddard Spaceflight Center to carefully bend and break the handrail free. At about three hours into the spacewalk, Massimino broke the handrail free allowing the spacewalkers to proceed with the day's tasks."
As a result of the stubborn fixing, the spacewalk overran by 90 minutes, eventually ending at 21:47 GMT after 8 hours, 2 minutes - making it the sixth longest spacewalk in history. Good and Massimino didn't have time to fit a new protective thermal insulation panel, and NASA is hoping to slot this into the fifth and final spacewalk, scheduled to begin at 13:16 GMT today.
As well as tackling Hubble's insulation, mission specialists Andrew J Feustel and John M Grunsfeld will finish the job of replacing the telescope's batteries and fit a new fine guidance sensor.
On Saturday, the two astronauts carried out STS-125's third spacewalk, taking over six hours to fit the new Cosmic Origins Spectrograph (COS) and carry out repairs to the Advanced Camera for Surveys (ACS) which failed in 2007 "due to a short circuit in its backup power supply".
Feustel and Grunsfeld succeeded in reviving the ACS's wide field channel, responsible for most of its observations, but were unable to coax the high resolution channel back to life, meaning it's probably now permanently out of action. ®