International brainboxes operating a fiendishly cunning probe contained in a small rotating shed on a pole situated in the arid high-altitude desert of Chile are in a race against rival boffins with a telescope on stilts at the South Pole to discover how the universe was born.
The two crews of elite brains are looking to discover evidence of gravity waves, possibly created in the moments immediately following the appearance of the universe. It's thought that cosmic microwave background radiation, described as "the afterglow of the Big Bang" may hold traces of these gravitational ripples.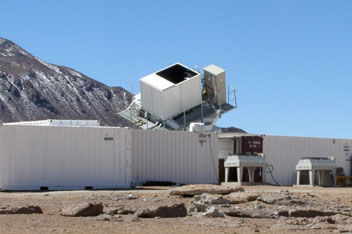 Get it really cold and really dry, and shake it about
Roughly speaking, then - we here on the Reg boffinry desk are badly hampered in explaining this by having basically no idea what we're on about - in terms of everyday objects and events that we can all understand, the early universe behaved as though one had lobbed a powerful bomb into a vast hot tub filled with highly elastic microwave-emitting jelly.
As explained by the University of Chicago:
Space expanded faster than the speed of light. It sounds crazy ... gravity waves rippled through the very fabric of space-time itself ... gravity waves that alternatively compressed and expanded space, first in one direction, then another ...
Seeking to make things a bit clearer, Chicago Physics prof Bruce Winstein explains: "These gravity waves have been called the smoking gun of inflation." That's universe inflation, not economic.
Winstein is a major honcho in a physics project called QUIET. The Q and the U stand for Stokes radiation parameters, as one would expect in this context had one even an elementary grasp of the subject, and the IET bit stands for Imaging ExperimenT.
The prof and other QUIET boffins have recently deployed an array of 19 super-superchilled microwave antennae in a small shed-like box in Chile's hyper-arid Atacama desert 17,000 feet above sea level. The Martini-esque experiment is mounted on a swivelly pedestal (see pic) so as to scan the entire sky for microwave universe-inflation gravity ripple bang-afterglow gunsmoke.
Chicago Uni's experts in chilled, dry experimental modules are now racing to fit out the desert funhouse shed with hundreds more antennae. This is vital in order to steal a march on rival boffins, also seeking to find the gravwave gunsmoke with their radiotelescope, situated at the Amundsen-Scott scientific South Pole stilt base. The Chicago desert-antenna swivel-shed team hope to have their enhanced universe-ripple probe online by June.
"No one can say what the best approach is right now," says Winstein, evidently a true sportsman, "but ... ours is different from most of the others. It's very exciting to be in this game."
There's more from Chicago Uni here, and stuff about the South Pole stiltscope here. ®
Similar topics