This article is more than 1 year old
Canon LV-8300
It is big, it is clever, it is portable
Review Some portable projectors are intended for home cinema enthusiasts. Others are targetted at business users, trainers and travelling presenters. With the LV-8300, Canon could well be having a creditable crack at satisfying the needs of both types of buyer.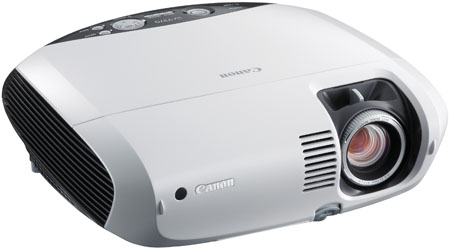 Moving pictures: Canon's LV-8300 comes complete with its own shoulder bag
Although the projector is bigger and more expensive than your average 720p/1080i device, it offers up-to-date native WXGA widescreen resolution, is uncommonly easy to use, and looks very much like a consumer durable sitting on your desk... or coffee table.
Actually, the LV-8300 is not as large as it first appears: it's only 11cm high and 32cm wide. Rather, the shiny white plastic casing that slopes saucily over the top and front of the unit makes it seem bigger. Even the foot-long depth is misleading, since a significant part of this is taken up by a tough curved handle moulded into the casing at the back. Business travellers should note that the unit weighs a reasonable 3.3kg and comes supplied in a carry bag with shoulder strap.
The lens sits under a large, curved dust cap. Zoom (1.2x) and focus are adjusted manually using rings around the lens, and the image size is impressive for a non-conference projector. Even at a modest living room throw distance of 3m, the LV-8300 produces an image more than 2m wide and 1m high. Move the unit just 1m away from your wall, and you can watch a manageable 0.5 x 0.3m projection. Take it to a school hall, set it back 10m from the screen and you will project a massive 6.5 x 4m image.
In small-to-medium sized venues, such as boardrooms and classrooms, this produces quite an impact and at 3000 lumens, the projection is bright enough for this type of partially lit environment too. The device can be switched to a quiet mode that dims the lamp a little and reduces the fan noise, and this would be recommended in all small-to-medium venues. At full pelt, the fan noise is too distracting for entertainment purposes. The contrast ratio is rated at 500:1.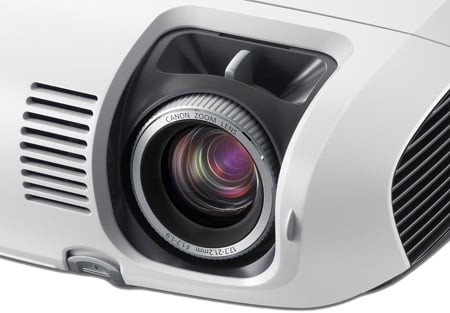 Image size and optical zoom are adjusted manually at the lens
One of the most attractive features in the LV-8300 is its WXGA (1280 x 800-pixel) native resolution. This is virtually meaningless if all you want it for is HD TV, but it makes a subtle but important difference when playing back 16:9 DVDs at full-screen: you get a bigger image. It's good for travellers, too, because the WXGA resolution directly mirrors that supported natively by vast numbers of notebook PCs in the real world. No more fiddling with display properties to get the two screens in sync -- just plug it in and go.