This article is more than 1 year old
Canon LV-8300
It is big, it is clever, it is portable
The LV-8300 is quick to set up, with two of the three rubber-soled feet being adjustable for height. The front foot can be screw-adjusted or you can use a quick-release button. One of the rear feet can be adjusted to compensate for tilted surfaces. Canon has thoughtfully put all the ports and the power input together at the rear, where they ought to be. In use, the plugs hanging out the back are well protected by the large, moulded carry handle.

Ports at the back are unambiguously labelled in writing, rather than just icons
There are two standard computer inputs -- VGA analogue and HDCP-compatible DVI-I digital/analogue -- each with their own stereo audio line-in sockets. RCA-type video and stereo audio ports are included too, as is an S-video port. Business and education users will be pleased to see monitor-out and audio-out ports, letting them work at a mirrored desktop computer screen rather than rubbernecking to see the projected image.
Serial and Ethernet 'service' ports are provided too. Canon says these are intended for remote management use in multi-device educational setups. Don't expect a built-in web-based management, though: you have to converse with the projector using arcane serial commands. It's a bit like reprogramming a 1200-baud modem in 1988.
While not exactly common on projectors, the lack of HDMI port is disappointing. But all the ports are labelled in English. No incomprehensible icons. Joy.
Not that we would be tempted to connect any audio input, unless it was to send the audio out immediately to some external speakers. The internal 7W mono speaker was no louder, nor offered any distinguishable quality advantage, over the tinny little speakers on our notebook PC, and at least they are stereo. For a projector of this size, we expected better.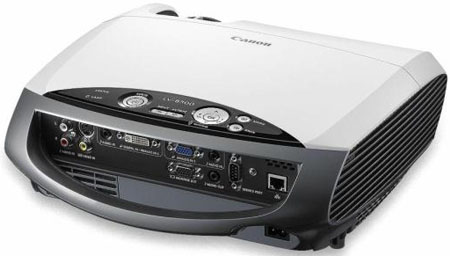 No burnt fingers: the control panel remains cool to touch
Operating the LV-8300 is surprisingly easy, especially given the expansive range of image controls available to you. Most projectors come with tiny overly detailed menu windows and a complex routine of selection, adjustment and acceptance. Not so the LV-8300, whose big on-screen menus seem really straightforward and quick to navigate.