This article is more than 1 year old
Canon LV-8300
It is big, it is clever, it is portable
Better still, Canon has built a basic, boring and wonderfully usable remote control handset for the projector. The buttons are spaced apart, they are immediately responsive rather than spongy and, yet again, they are all labelled in English. That's all you need from a remote control, and Canon has delivered. Why do other manufacturers find this kind of thing so difficult?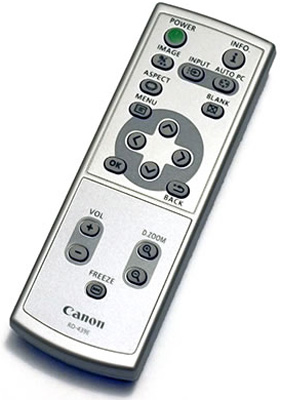 Well-spaced buttons and not too many of them. All labelled in English
Overall, image performance is good and we perceived no flicker when projecting movies and animations. This will be due to the progressive scanning. However, torture-testing the LV-8300's capabilities using the industry-standard DisplayMate utilities revealed that, while testing analogue input through the VGA port, the projector can sometimes struggle with ultra-fine, pixel-width detail. Nothing we could do with clock, tracking, scan, video filter, sharpness, or any other control would correct these occasional moirés. However, no such problem was encountered with the digital input.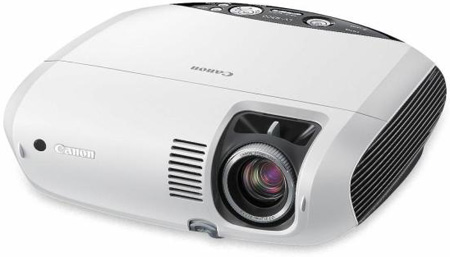 At last, a projector that doesn't look like a toner cartridge from the set of Aliens
After this disappointment, we were cheered up by the Screen Colour function, which alters the tone of the projected image to compensate for non-white projection screens. For example, if all you have at your disposal is a green, blue or yellow-painted wall, the LV-8300 can alter the image colours accordingly. A low-power, low-noise mode is also available, helping reduce reflective spots when projecting onto shiny, dry-wipe whiteboards.
Verdict
This is a very likeable projector. The connectors are spaced out nicely in the right place and all properly labelled, and everything is so easy to set up. The image is big and friendly. Even the look of the projector itself is big and friendly, like a futuristic, one-eyed sandwich toaster. It is neither perfect nor cheap, but in a market stuffed with hideous, poorly thought-out and impractical compact projectors, the LV-8300 is joy to carry around. ®
More Projector Reviews...

Acer K10

Epson EH-DM2
with built-in DVD player

Infocus X10

3M MPro110
handheld projector

Canon LV-8300
Canon ably demonstrates how a versatile portable projector doesn't have to be boring... or hideous