Sims 3 leaked two weeks before release
Digital dollhouse bootleg
The newest addition to Electronic Arts' mega-franchise The Sims has reportedly been leaked online two weeks before the video game's official release.
It certainly didn't take long for EA's The Sims 3, one of the game publisher's flagship titles for 2009, to be shanghaied by interweb pirates. We've identified a number of trackers (that shall remain nameless) purportedly linking to the game torrent, sized somewhere near 5GB.
We haven't directly verified the file, of course, because 1) it's illegal and 2) publishing a confession of doing so in the news is a terrible idea. Indirectly via torrent comments and online ne'er-do-wells, it appears to be the real deal.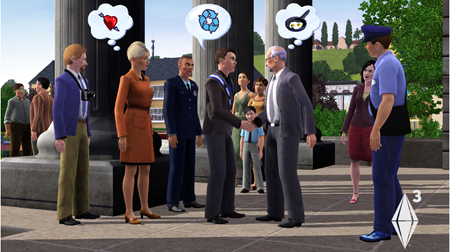 Although perhaps inevitable these days, the leak is still bad news for EA, which announced back in March that Sims 3 wouldn't carry any online authentication. Only a product key is necessary to activate the game, the company stated.
But the game's launcher still appears to want to phone home for some purpose. Torrent instructions usually mention using a firewall to prevent the launcher and game from going online.
EA's slackening of copy protection restrictions for Sims 3 was a response to intense criticism of the company's heavy-handed DRM implementation in Spore. Those restrictions in many ways overshadowed buzz for the game itself. In addition to requiring Spore to be registered online, the game installed SecuROM copy protection (arguably without telling the user) and granted only a limited number of installs. The game was still pirated on a massive scale despite EA's efforts.
But obviously, the reverse psychology bit doesn't work either. Fortunately for EA, if Spore and other headlining leaks like Wolverine can make tons of money despite the rampant piracy, there's a good chance The Sims 3 will be lining their pockets anyway.
EA has yet to comment on the alleged leak. ®