This article is more than 1 year old
The Great Spotify Mystery
Part One: Who's really running this show?
The music business has set up a lemonade stand outside its house and it's giving away lemonade for free. Not surprisingly, people love the free lemonade, and the stall has drawn a large and enthusiastic crowd. The stand is called Spotify.
The business justifies this because it's so easy for us to get their music for free elsewhere. With very little effort, you can obtain it simply by appending a magic word ('torrent' or 'rapidshare' usually do the trick) to the artist you're looking for in Google.
Acquiring it may not be pleasant: doing so may help support a neo-Nazi with a grudge. But many people are prepared to hold their breath, because you can fill up your iPod or phone with music without paying any more than your monthly internet fee. That fee is a bit of a bummer - why can't it all be free? - but a modest outgoing on a computer and an internet connection saves a lot of money.
The business looks down on this free and easy access to its assets quite understandably. Because if it's all free, then investment in making sound recordings will evaporate. Only fools invest in businesses which aren't going to make any money. You're following, I hope.
So to compete with businesses which don't make any money and give away free music, they're backing a business which doesn't make any money, and gives away music for free. It's genius.
But it gets better.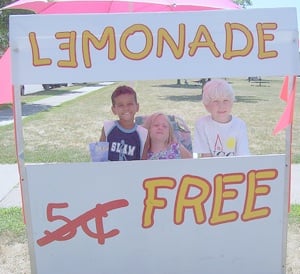 A viable business plan? [*]
The more Spotify grows, increasing its music catalogue as it goes along, the fewer recordings you have to buy. The music you want to hear and the playlists are "in the cloud", for free. If you could be assured the free lemonade would never stop, you may as well get rid of the CDs you already have now, and will never have to be pay for a sound recording again.
The rival lemonade stands don't have to pay for the music they offer, while Spotify does. So keeping the Spotify tap turned on costs the music business an enormous amount of money. Last week, at the Great Escape music event in Brighton, we learned that Spotify has very little realistic prospect of making any money either.
It's all a little embarrassing, coming ahead of next month's Digital Britain report. The major labels must hope Stephen Carter hasn't joined the dots yet. They complain free music is destroying their income and regularly plead to legislators, regulators and the telecoms providers for help. Then they give away music, not just free, but at great expense. No business is obliged to go broke voluntarily.
On Friday, Paul Brindley from Music Ally :-[ interviewed Spotify founder Daniel Ek at The Great Escape. It was stated that the labels own 30 per cent of Spotify through equity investments. It may be higher. But most of that money is simply being recycled in royalties. (Spotify isn't just a lemonade stand, it's a laundromat.)