Daimler buys ten per cent of Tesla
Joint e-car manufacture to follow?
---
Leccy Tech Mercedes-Benz maker Daimler AG has acquired a ten per cent stake in US e-car maker Tesla Motors for a "double-digit million Euro sum".
The pair today announced that, in the immediate future, Tesla will supply battery packs for Daimler's Smart electric vehicle – scheduled for worldwide availability in 2012.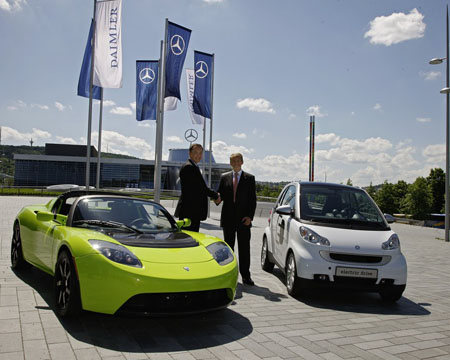 Executives from Tesla (left) and Daimler (right) shake hands after the deal
Under the terms of the partnership, Daimler and Tesla will also work together on battery management, cooling issues and the development of electric vehicle drive trains.
Daimler will provide Tesla with vehicle testing and component support, the latter of which should allow Tesla to rifle Mercedes-Benz' parts bin for Model S bits and to take advantage of its production and engineering expertise.
A Daimler executive will also take a seat on Tesla's board.
Neither firm mentioned plans for combined vehicle manufacture, but it's not difficult to imagine Tesla EVs rolling off the Mercedes-Benz production line in Vance, Alabama.
During a questions period at today's announcement, Tesla's CEO, Elon Musk, made an interesting comment about its battery packs. Apparently, they will retain 20 per cent of their value - even at the end of their useful life - due to the value of their component metals, which makes re-cycling environmentally and commercially attractive. ®
Similar topics
Broader topics