This article is more than 1 year old
DARPA to try out goose v-formation trick with jets
'Only birds do this, and they can't explain it to us'
Geese don't fly in V formation just for fun: it makes long flights a lot easier for the following birds. Pentagon scientists are now looking to exploit this effect to save fuel in military aircraft.
The US military research effort is called the "Formation Flight For Aerodynamic Benefit", and it builds on previous work by NASA in 2001-2002. The NASA effort, called Autonomous Formation Flight, used a pair of instrumented-up F18 jets flying in close formation, one tucked in behind the wingtip of the other.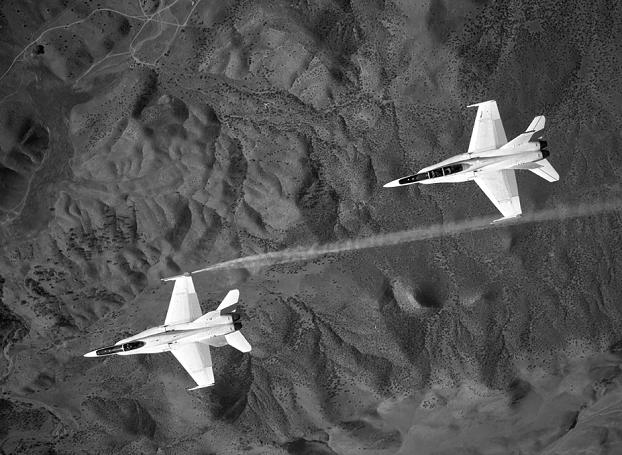 Goose would never leave his wingman.
According to NASA, reporting on the AFF trials:
Significant performance benefits have been obtained during this flight test phase. Drag reductions of more than 20 percent and fuel flow reductions of more than 18 percent have been measured at flight conditions of Mach 0.56 and an altitude of 25,000 ft. The results show favorable agreement with published theory and generic predictions. An F/A-18 long-range cruise mission at Mach 0.8 and an altitude of 40,000 ft has been simulated in the optimum formation position and has demonstrated a 14-percent fuel reduction when compared with a controlled chase airplane of similar configuration.
The NASA project was intended to move forward and actually demonstrate fuel savings over a long flight, and develop autopilot equipment which could hold following jets exactly in the sweet spot for best results relative to the plane ahead. (During the trials the planes were actually flown manually, using special heads-up displays to help the pilots hold position).
However the NASA effort was cut short due to lack of money, and the idea was kicked into touch - until now. Yesterday, the famous Pentagon propellerhead bureau DARPA announced that it intends to award US megacorp Boeing an unspecified sum to look into formation flying as a way of getting aerodynamic benefits.
DARPA have plainly been interested in the idea for a while. In 2005, the agency's Dr Thomas Beutner said (pdf page 3):
Formation flight is an idea we know should work. We see it even in nature, yet while we routinely use formation flight for tactical advantage, it has never been utilized for the full aerodynamic benefit it offers. The aspect ratio benefits of formation flight on induced drag increase with the number of aircraft in formation, offering a means of increasing range with multiple aircraft. Or, if we choose, we could preferentially improve the range of one aircraft in the formation without transferring fuel. This opens a new design space for aircraft conceived and operated as a networked system. As always, there are challenges to overcome. One challenge is precisely maintaining the relative position of two aircraft, or many aircraft, to take full advantage of the reduction in drag due to lift. Only birds now do this routinely, and they can't explain it to us. Autonomous stationkeeping will require demonstration in flight ...
The Boeing deal announced yesterday will see a "phase 1" effort involving simulations, planning and "data gathering flight tests in the wake of a large military transport aircraft". If all goes well, later phases would see work on Dr Beutner's desired autonomous stationkeeping equipment - possibly applied to manned or unmanned future aircraft fleets "conceived and operated as networked systems".
There's lavish technical detail from NASA's earlier work in this pdf, for those interested. ®