Review With every tuppenny-ha'penny laptop and netbook coming with a built-in web cam, and laptops taking an ever larger chunk of the computer market, it's probably fair to say business ain't want it used to be when it comes to flogging external webcams. So has Philips' new SPC1330NC Webcam Pro got what it takes to make it a worthwhile purchase for those whose PCs have a fitted camera?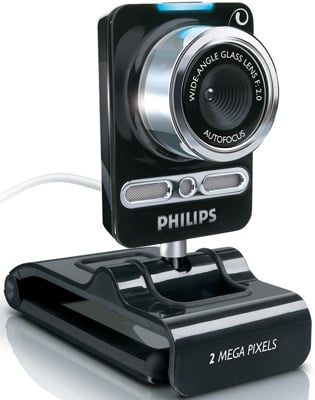 Optional extra: Philips' SPC1330NC
It's not often we start reviews with the box, but in this case we are going to because it makes some bold claims including that the SPC1330NC delivers HD quality, 90f/s, 2Mp video and 8Mp resolution still images.
A glance at the spec sheet reveals that the SPC1330NC also comes with an 8x digital zoom autofocus f-2.0 wide angle lens with a 70 degree viewing angle, twin stereo microphones and a couple of trick bits of software, namely, Pixel Plus 2 – for "natural-looking, razor sharp pictures" – and Digital Natural Motion, that removes picture judder.
Standing 95mm tall on a base 86mm deep and 40mm wide, the camera is a compact design and a very flexible design too. The lower side of the stand hinges down by up to 90 degrees, so the unit can be hooked over the lip of a laptop screen as well as sat on a desk.
The camera itself sits on a hinge that moves back and forward by around 30 degrees from the vertical, though the "up" angle can be further increased by opening the jaws of the stand. Put a weight on the lower part of the base hinge and you can have the camera point up at 90 degrees should you so wish. The camera housing will also rotate through 360 degrees and has a big blue LED on the top to tell you when it's in use.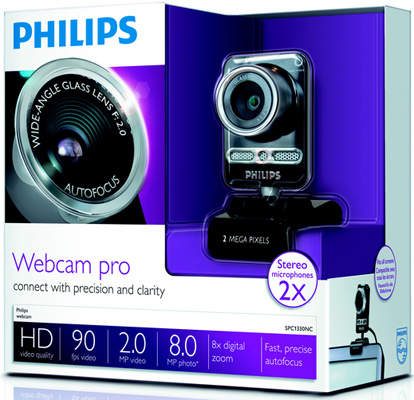 In the frame: the specs require closer scrutiny
We are less sure about the aesthetics though – the shiny silver plastic decoration around the camera and microphone grill make it look cheaper than the £70 it'll cost you. Along with the camera, all you get is a software CD and a USB cable. But what about that 8Mp photo claim? The CMOS sensor in the camera has a native resolution of 2Mp, so that 8Mp figure is for a software interpolated image, rather than a genuine 8 million pixels.