This article is more than 1 year old
HP OfficeJet Pro 8500 Wireless
Colour laser killer?
Review HP has a difficult game to play. It wants to increase usage of its inkjet printers and all-in-ones by selling them small business, but in doing so it risks hitting the colour laser printer market, in which it's the major player. The OfficeJet Pro 8500 Wireless is a case in point. It's a fast, high-capacity inkjet all-in-one which could directly undercut sales of colour lasers.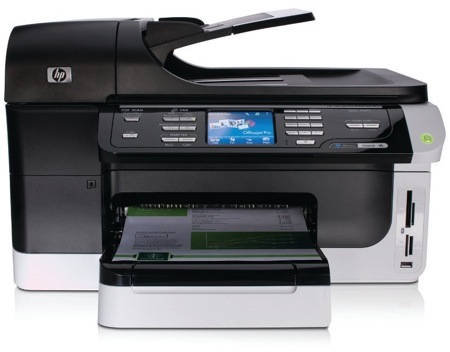 HP's OfficeJet Pro 8500 Wireless: laser beater?
Folk who still view inkjet printers as devices where the ink cartridges clip into the print heads and need replacing often, with ink costing more per cubic centimetre than vintage champagne, should think again. The OfficeJet Pro 8500 Wireless cartridges last for thousands of pages, plug in conveniently at the front and the ink has nothing on a good Chateau Lafite.
This isn't the world's most attractive all-in-one, with a high-angled feed tray to its automatic document feeder (ADF), a jutting control panel and an obtrusive paper tray sticking out the front, but HP has tried to relieve the lines with some generous curves.
The ADF can take up to 50 sheets and lifts to reveal a full A4 flatbed for single-sheet scanning. The single paper tray – there's no separate photo tray as there is on many of HP's Photosmart all-in-ones – can take up to 250 sheets and is easy to fill, once you've removed the cover, which also acts as the output tray, in typical HP fashion. A second 250-sheet tray, fitting underneath the machine, is available as an option.
At the right-hand end of the front panel is a group of four memory card slots, covering all the current types, and a USB socket for PictBridge devices. There's another USB port at the back, but no Ethernet. This is slightly strange, as the machine does include Wi-Fi networking, which can be set up easily from the machine's 88mm touchscreen. That's 'easily' once you're used to the fairly insensitive touchscreen, which produced a number of miss-hits during testing.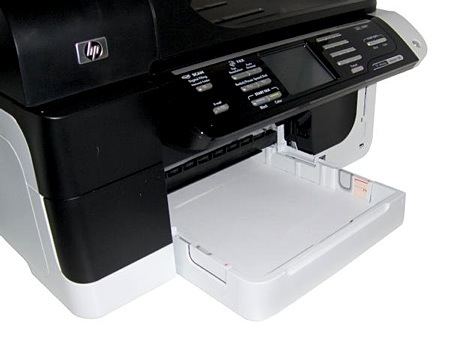 There's but a single input tray for plain and photo paper
Perhaps HP realises its touchscreen isn't as tactile as it should be. There are a lot of physical buttons on the control panel, too, for fax dialing – a 33.6Kb/s fax modem is built in – scanning and copying.