This article is more than 1 year old
BT and 3 unite to fight mobile rate
Unions, small biz reps and care workers pile on
BT and 3 have roped in unions, small business representatives and care workers to back a campaign to scrap the mobile termination rate today.
"So who sets the mobile termination rate?" the man from the Telegraph asked, in the Q&A session that followed. Surely the question on everyone's lips.
We can reveal that it's the UK telecoms regulator Ofcom, which spontaneously revealed a public consultation into the issue yesterday. The rate has fallen in recent years and is due to expire in March 2011, but the EC is nudging things along. The Terminate The Rate campaign should focus consumer attention on the issue.
The rate is a compulsory charge to mobile networks for receiving outside calls - hence the name. It was originally introduced as a sweetener when mobile networks were new.
This year it's 4.4 per minute for Vodafone and O2, and 4.5p for Orange and T-Mobile. The charge ultimately costs fixed line operators alone £750m a year. Groups today said it should represent the marginal cost, closer to 1p a minute, but a zero rate would allow new flat calling plans.
But it won't go without a fight. The rate generates 14 per cent of mobile-to-mobile revenue, Ofcom said today: 14p in every pound spent on calls.
"The amount of legal authority and PR mobilized by the Big Four is unbelievable," said 3's UK boss Kevin Russell.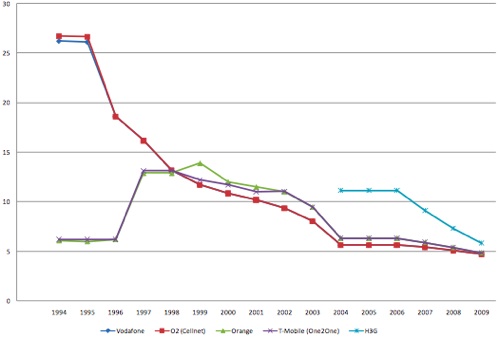 Termination rates in pence per minute
Hutchison's 3, as a late entry into the UK market, has higher rates than the established four players at 5.4p per minute, but because it has proportionately more people calling other mobile networks than its rivals, this costs it dear: Russell reckons £200m in recent years.
"We get subsidised by BT but we want the subsidy to go," Russell said today. "Then we can offer lower prices."
Rivals have raised the spectre of paying to receive mobile calls, as in the USA, where incoming minutes count as part of your bundle.
3 singled out Vodafone in particular for lobbying. 3 says its rivals use the tariff to subsidise flashy mobiles people don't really want, or pay David Beckham to appear in ads.
Ofcom agrees that lower termination charges are good for consumers, even though it would hit low usage pay-as-you-go customers who receive more calls than they make. Vodafone used this argument last year. Ofcom also agrees that terminating networks have a monopoly position on the charge.
It's looking at six options, one of which is total deregulation and another zero termination. The European Commission recommends a "Long Run Marginal Cost" approach.
Meanwhile, looming in the distance is the move to IP-based networks, where the distinction between fixed and mobile operator is a historic legacy - but the costs of running the network vary enormously.
Today's campaign may be orchestrated by rivals, but leaves the existing oligopoly hard pressed to justify the stealth tax. ®