Brin spin
Sergey Brin shrugged off such talk as Google was announcing an amended library-scanning agreement with the University of Michigan. Google has been scanning books inside the university's library since 2004, but with the new pact, Michigan has embraced the terms of the court settlement. The Times leads its story with the claim that Michigan's new pact "could blunt some of the criticism" over Google's author and publisher settlement. But that's more Brin spin.
Before ruling on Google's book settlement, a New York-based federal court is kindly accepting complaints from other interested parties. And earlier this month, the American Library Association (ALA), the Association of College and Research Libraries (ACRL), and the Association of Research Libraries (ARL) filed papers asking the court to exercise close control over the settlement.
Among other things, the group complained that the settlement fails to give outsiders a say on the price of the online digital-book service Google plans to sell to libraries across the globe. The amended agreement with the University of Michigan would allow the university to cry foul if thinks the price is too high, and Google hopes that other libraries will ink similar deals.
But as part of the deal, in return for allowing scans of its works, Michigan gets free access to Google's online service for 25 years. Which makes you wonder why Michigan would ever object to price.
"We see the amended agreement as a step - or an attempt - in the right direction," Corey William, associate director in the association's Washington office, tells The Reg. "But it doesn't address our concern that all libraries should have the ability to request reviews of pricing should a dispute arise. That right has been extended to Michigan - and other libraries - but it hasn't been extended to all libraries."
But if Sergey Brin and company can drown out such voices, they will drown them out. The Reg was amused this morning when we searched Google News for stories on the amended Michigan pact. Google's new news landing page listed five stories and one enormous call-out quote from, yes, Sergey Brin: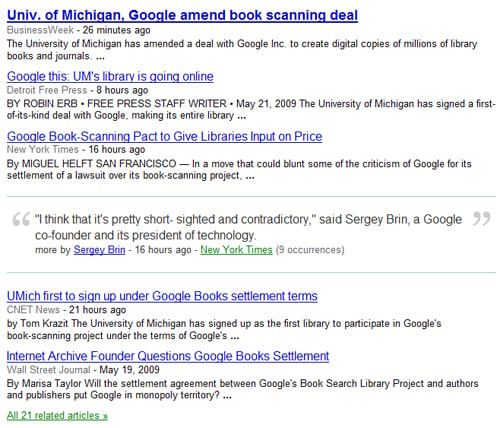 Brin spin, indeed. ®
Similar topics