Governator revives anti-violent video game crusade
Fears fate of young frontal lobes
---
California governor Arnold Schwarzenegger is asking America's top court to restart his campaign of criminalizing the sale of violent video games to children.
Legislation banning sale or rental of mature-themed video games to Californians under 18 was first penned by Democrat senator Leland Yee and signed into law by the Governator in 2005. However, the law was struck down by a federal judge citing First Amendment free speech issues before it could go into effect.
Schwarzenegger attempted to overturn the decision at a California federal appeals court, but lost again in February.
On Wednesday, California Attorney General Edmund Brown petitioned the case to the US Supreme Court on behalf of the state. If at least four of the nine Supreme Court justices grant the petition, the country's top court will formally review the past rulings.
"Exposing minors to depictions of violence in video games, including sexual and heinous violence, makes those minors more likely to experience feelings of aggression, to experience a reduction of activity in the frontal lobes of the brain, and to exhibit violent antisocial or aggressive behavior," the law claimed.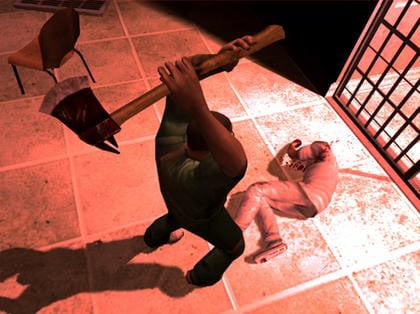 Does anyone else's frontal lobes feel funny...?
Even minors who don't commit violent acts as a result of prolonged exposure to gruesome games still suffer "psychological harm," it claims, and therefore the state has a prevailing interest in intervening.
Video games deemed "patently offensive" to children based on the "prevailing standards in the community" sold in California would require a 2x2-inch solid white "18"-only warning displayed on the front of the case. Store owners caught selling violent games to tots would face a fine up to $1,000.
The state argues that violent video games should not be entitled to First Amendment protections afforded to most media, saying that should instead reviewed under the same "flexible standard" applied to the sale of sexual material to minors in the US.
"Like other forms of unprotected speech recognized to date, the extremely violent video games at issue here serve 'no essential part of any exposition of ideas, and are such slight social value as a step to the truth' that the government must be allowed to regulate their dissemination to minors based upon content, without running afoul of the First Amendment," the Supreme Court appeal states.
"Violence can remove all redeeming social value from otherwise protected material," it adds.
The lawmakers further argue that even if the Supreme Court doesn't believe the variable obscenity standard applies to the law, the court should accept the case to clarify how much evidence indicating violent video games harm children is needed to support the state's restriction.
In a unanimous ruling, the Ninth US Circuit Court of Appeals had earlier said California could only justify the ban if the state could prove violent video games caused actual psychological harm. It must also show that criminalization is the best way to prevent the alleged damage.
The filing counters that "under existing, responsible social science, such empirical evidence may prove unobtainable."
"Of course, the evidence considered by the California Legislature did not contain studies wherein children were insulated from all other forms of violent media and exposed only to violent video games. But the Legislature did consider substantial evidence that tends to establish a correlation between playing violent video games and increased automatic aggressiveness, aggressive thoughts and behavior, antisocial behavior, and desensitization to violence in minors and adults."
It claims when the government defends a ban on certain speech as a means of preventing anticipated harms, legal precedent requires courts to uphold "legislators' predictive judgments of harm" so long as they're drawn from "reasonable inferences" based on "substantial evidence."
Such evidence linking video games to real-world violence does exist, but mostly avoids claiming any direct causation. There's also plenty of evidence to the contrary.
In the Attorney General Office's announcement of the appeal, it claims video game industry self-regulation has proved ineffective. "Children are still able to readily obtain violent video games, despite the voluntary rating system in place."
Ironically, the legislation's most outspoken supporter is California governor Schwarzenegger, who made his fortune starring in extremely violent R-rated movies – all within a voluntarily regulated industry. We're sure no child under 17 has ever seen a Terminator movie.
A copy of the petition is available here ®
Similar topics
Broader topics