The Queen may need somewhere else to store the crown jewels, because she's reportedly been given a golden Wii.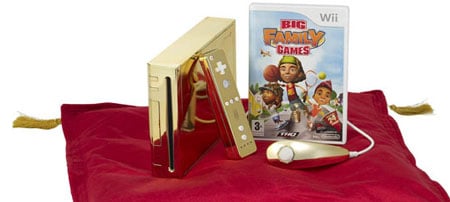 THQ sent the Queen a gold-plated Wii to promote its latest game
Videogame publisher THQ has, according to several reports, sent the Monarch a gold-plated Wii to publicise its latest title: Big Family Games.
According to THQ's Product Manager, Danielle Robinson, the Royal Family's the most important family in the country and so, in addition to a free copy of the game, the firm felt it only right that Liz, Phil, Chaz and the gang received an "extra-special gold one".
We're not sure if Her Maj is fond of videogames, but as the bundled title includes golf, tennis and lawn darts games, it's sure to help her keep fit. ®