Hulu, the commercial-fed internet television service backed by three of the four American TV giants, is rumored to be arriving in the UK as early as this September.
According to The Telegraph, which cites "senior sources" close to negotiations, Hulu is planning an autumn UK roll-out that will include 3,000 hours of American content. It's also currently working on getting programming from ITV and Channel 4 into the mix.
Advertising trade pub Brand Republic had earlier reported that negotiations with the two commercial broadcasters are being held back by a disagreement over ad sales. Hulu wants to have complete control of ads for all content on the site, but Channel 4 and ITV won't oblige.
Hulu is also reportedly in talks with the BBC in hopes of seizing the lost opportunities left by Project Kangaroo, which was nixed by British competition watchdogs in December 2008. It's not exactly clear how Hulu would avoid the same fate.
Earlier this month, the website announced it had inked a pact with UK content distributor Digital Rights Group to offer web-watching Americans access to several British TV shows, including Green Wing, Peep Show, Kingdom, and Doc Martin.
The only program on Hulu currently available outside of the US looks like this: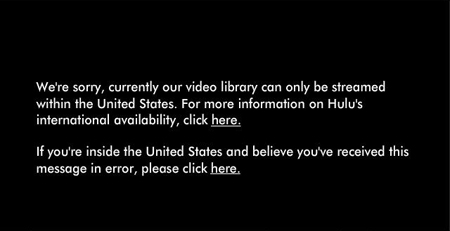 Overrated, really. ®
Similar topics