Microsoft snuggled a little closer to its US movies-on-demand buddy Netflix on Wednesday by rolling the firm's streaming content into Windows Media Center.
Netflix subscribers can now access the company's library of streaming movies and TV shows right on the media dashboard built into Vista Home Premium and Ultimate. Microsoft also baked its Media Center into the upcoming Windows 7 operating system, but there's no word if the deal extends that far.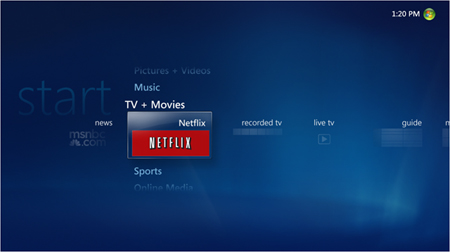 Netflix is a bit of a trophy customer for Microsoft, as it's willing to preach the gospel of Silverlight over the entrenched rivalry from Adobe's Flash. Indeed, the Windows Media Center flavor of Netflix is powered by the same streaming Silverlight feed used by the movie rental firm's website. Unfortunately, that means neither the Netflix service on an internet browser nor on Media Center gets HD content until the Netflix decides to soup up its content offered on the fly.
Microsoft has also rather bizarrely not included Windows Media Extender support for Netflix on the media dashboard, so you can't use the player on a TV (or other extender-enabled device) unless the PC is plugged directly into the intended display. That certainly seems to call into question the real utility of Netflix for Windows Media Center. After all, why not just browse the content directly from Netflix's website if you're stuck on the PC in the first place?
Ah well, such is Microsoft. Perhaps they're betting on folks being charmed by the Windows Media Center interface — which is admittedly kind of slick and browsable with Media Center compatible remote controls.
Netflix has also been in the Xbox 360 since November 2008, which is probably a more convenient way to get the movie service on a television set.
And yes, Netflix is available in the US only. Before 2004, the company toyed the idea of launching in the UK, but then decided to concentrate only on the stateside of the biz. ®
Similar topics