Review Fancy an affordable wireless iPod system that can grow to suit your needs or just looking for a way to avoid hardwiring speakers in the your home? Certainly, wireless sound systems take some beating in terms of convenience but, typically, at a cost. Addressing both portability and price, the new IntelliTouch Eos offers multizone audio may prove to be a sound investment.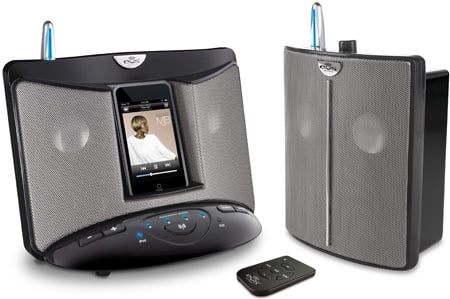 Intellitouch's Eos: starter kit includes docking station and wireless speaker
At £250, the Eos100T1RB is the main docking base station with an Eos100RB client speaker included. With additional speakers at £100 apiece, five zones of audio can be furnished for just under £550. Not bad value and certainly loads less hassle that going down the route of a wired whole house approach.
Also available in white, the looks are nothing to get excited about with the test model clad in a relatively neutral black body and silver grill on both the main docking station and the client speakers. Included are five adapters for different iPod models. However, older third generation universal adapters are not supplied. Neither is an adapter for the Nano and fifth generation Video iPods, iPhones and iPhone Touch. As Apple bundles adapters with these particular iPods, this should not pose too much of a problem.
The Eos iPod docking base station/transmitter features two stereo speakers and a ported sub-woofer. The base station's auxiliary audio input makes use of the good quality 3.5mm stereo jack cable supplied with the unit, so that anything with a headphone or line output can play through the system.
The Eos also utilises WOW sound enhancement technology from SRS Labs. The science behind WOW is to deliver improved bass response and a wider stereo image using psychoacoustic techniques. The attributes of the SRS WOW signal processing are also broadcast to all the wireless stereo remote speakers linked to the base station/transmitter.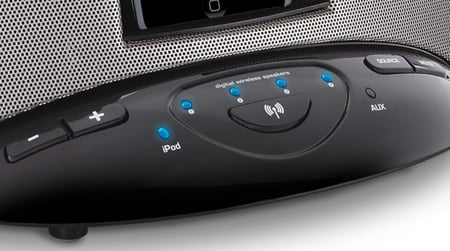 Simple controls, but where's the off button?
Front mounted buttons on the base station control volume, switching between sources, muting the main speakers and turning the wireless transmission on and off. All are well laid out and labelled, allowing you to get started with minimum fuss. However, we could not find a main on/off button on the docking station or on the small remote, which does mean the unit has to be turned off at the wall when not in use.