This article is more than 1 year old
Analyst forecasts Apple Kindle-killer for 2010
We think he's onto something
Apple may have a downer on netbooks, but that won't stop it releasing a 7-10in tablet in the coming months, one analyst has forecast. It's some way off, though.
Piper Jaffray's Gene Munster is a long time Apple watcher well known among the firms fans for his product predictions. His latest, made in a research note sent out to investor clients and reported by the Times today, is a little more cautious than usual: Munster reckons the tablet won't appear until H1 2010.
He says it will cost between $500 and $700.
Munster's pitch is that the product would compete not so much with netbooks but with the e-book readers like Amazon's kindle. We think he might have something there.
While we're not taking Apple's rejection of netbooks as gospel - company executives have rubbished product types before, only to release an Apple version months later - but a tablet fits in rather better with Apple's general product strategy and other offerings.
The e-book reader market is nascent, so there's room for Apple to get in there with a product that shows 'how it should be done', much as it did with the music and, later, movie handheld player markets.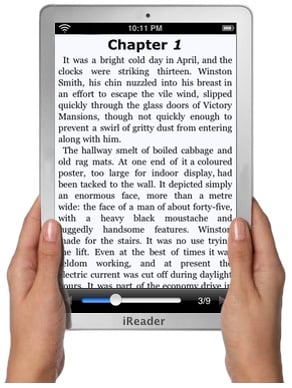 If only...
Reg Hardware Artist's impression
As the MacBook Air shows, Apple has the design and engineering nous to come up with a device way sexier than any other e-book reader. And its iPhone work has shown it how to make such a gadget work without a keyboard, something UMPCs failed to do, which is why netbooks proved so popular when they were not.
As the iPod Touch shows, Apple wouldn't limit its tablet to e-books - we'd expect it to be a web browser, music and movie player and games gadget too. But Apple could easily extend iTunes to deliver text downloads as well as the many forms of content you can already but there.
So why wait until 2010? If Munster's right, and that's what Apple is doing, the manufacturer is clearly waiting for better, more power efficient screen, processor and battery technology. Getting a bigger Touch working well requires a colour display but to compete with Kindle and Sony's Reader it would need a comparable battery life. CPU technology can help too, by incorporating more features - graphics in particular - currently implemented on separate chips.
So far, e-book reader sales have been tiny, so Apple's not losing a lot by waiting.
It shouldn't wait too long, however. Register Hardware has already had indications that other vendors - netbooks makers like Asus, in particular - are eyeing this market.
Which processor might it use? It's tempting to look at Intel's evolving Atom series, which is expected to make big strides forward in the performance-per-Watt stakes when the next-gen models launch in the early 2010 timeframe. Is that what Apple's waiting for?
But the iPhone heritage equally points to ARM for its low-power architecture - and also because Apple's own chip design initiatives, born out of the acquisition of PA Semi, point in that direction.
And this product in no way means Apple won't do a mini laptop too.
Macworld Expo 2010 in January 2010 is going to be an interesting show, we think... ®