This article is more than 1 year old
London to become Europe's e-car capital, says Mayor
Boris unveils very ambitious plans
Leccy Tech London Mayor Boris Johnson has announced plans that he hopes will make the city the electric vehicle capital of Europe.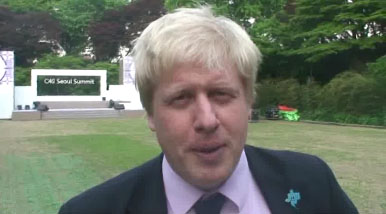 Boris Johnson announced his EV plans for London in Seoul
How will he achieve this miracle? Essentially by encouraging 100,000 EVs onto the city's streets "as soon as possible" and by rolling out an e-car charging infrastructure to the tune of 25,000 charging points - all by 2015.
Johnson also announced plans to create a "Dedicated Electric Vehicle Centre of Excellence" (DEVCoE) within the Greater London Authority (GLA) to help deliver on his plan.
The DEVCoE will liaise with other member cities of the Climate Leadership Group – known as the C40 group – that are developing – or at least thinking about developing - EV infrastructures.
C40 member cities include Seoul – where Johnson made his announcement — Los Angeles, Hong Kong, Toronto, Delhi, Sao Paulo, Beijing and Sydney.
Only 2500 of the charging posts will be installed and funded directly by the GLA. The remaining 22,500 will come as a result of the GLA working "with the [London] boroughs and other partners".
Further details of exactly what that means and, crucially, who'll pay for the posts will follow in November.
What we do know is that the GLA-funded charging infrastructure will be broken down into three categories.
Slow - 13A, 240V - charge points able to charge a car over several hours. Around 70 will be installed in London Underground car parks, with another 84 in National Rail car parks and long-stay public car parks. By 2015 there should be 2000 of these.
Some 50 fast-charge points - defined as 32A, 240V three-phase supplies able to deliver a decent charge to an EV in roughly 30 minutes - will be scattered around London by 2012. Another 150 charge points are scheduled to arrive by 2015 – apparently putting every Londoner within three miles of one.
Finally, we have rapid charge points: 200A, 500V three-phase supplies able to top-up your Tesla S in five minutes flat. However, the potential of these posts is still being "investigated".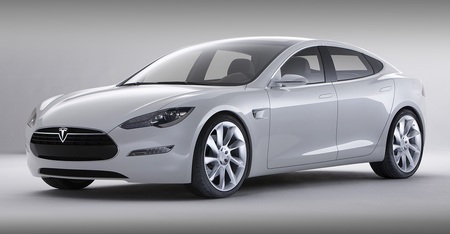 A Tesla S could be topped-up at a London charge point in five minutes, under Boris' plans
There'll also be a planning requirement to install e-car charging facilities in all new London developments.
On the vehicle side of things, the news is simply a re-hash of an announcement made back in April that the GLA fleet will include 1000 EVs by 2015.
The remaining 99,000 EVs will hit the road over the next six years, as a result of encouraging corporate and - presumably - private users to swap their petrol cars and vans for e-cars and leccy trucks.
To get this moving, incentives will include free parking and Congestion Charge exemption – both in addition to the government's £5000 ($7906/€5668) leccy car rebate that starts in 2011.
A report by analyst Frost and Sullivan has suggested that in order to promote widespread use of EVs, governments must "ensure the availability of at least four charging points per EV in the first year".
If the analysis is correct then London alone will need 250,000 charge points by 2015, rather than the GLA's projected 25,000.
You can find Boris' full 35-page plan online (PDF). ®